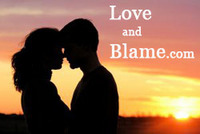 Relationships are based on how much we measure blame and how much we love.
New York, NY (PRWEB) February 9, 2010
The newly launched relationship advice website, LoveandBlame.com, is providing people plenty to talk about. The new site's features include a place to share personal stories, free e-books about relationships, a love and blame twitter tracker, a place to share a favorite love and blame book, movie, song or celebrity, as well as a place where members can request feedback from the community about love and romance. Additional features include the romance package shop, where people can purchase items to make their relationships better or keep them going strong.
Leading up to the launch, LoveandBlame.com initiated social media campaigns promoting the new brand on Facebook, Twitter, and other community based networks. LoveandBlame.com plans to update members and fans on exciting upcoming events and offers, as well as advice, tips, and guides for all aspects of love and romance.
"I am really excited about the launch of the new site," said owner and founder of LoveandBlame.com, Gil Pierre. "Relationships are based on how much we measure blame and how much we love. My hope is that users of LoveandBlame.com will continue to share examples from their lives to help each other through all facets of love and romance. Ultimately I want this to be a social community, not just a website. As the site grows with more people seeking relationship advice and sharing their personal stories, the possibilities are endless."
LoveandBlame.com hopes to become a resource for many different people looking for relationship advice and inspiration about love and romance. As time progresses, the site plans to increase the content submitted by users as they deal with friends, family, significant others, co-workers, lovers, romance and relationships. The inclusion of this user-generated content along with easy navigation and search function will give users the ability to find information they are looking for quickly and easily. For more information about Love and Blame, please visit http://www.loveandblame.com.
Contact:
Gil Pierre
917.686.5403
Media(at)LoveandBlame(dot)com
###