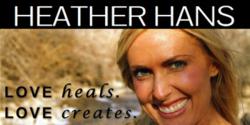 Boulder, CO (PRWEB) December 07, 2012
As the holidays approach, Love Expert and Psychotherapist, Heather Hans, is offering insights and a free 30-min strategy session for people looking dream big in 2013.
Most people are not living up to their potential. They dismiss their big dreams as "foolish" or "unattainable" without realizing that their wishes are their command. Following is a recipe for making your wildest dreams come true.
1.) Make your Wish.
The seed that brings your dream to life is the longing, the yearning, the deep desire to have something come to be in your life. If your desire is wishy-washy, the seed will not sprout. So listen closely to the longing of your heart and let your desire burn inside of you. It is there for a reason and is what you are supposed to manifest in your life.
2.) Choose to Make Your Wish Come True.
Decisiveness drives results. You may feel hungry, but you will not satisfy your hunger until you make a decision to get something to eat. Likewise, your desire will sit unsupported until you make the decision to give it what it needs to come true.
3.) Learn to Control Yourself.
Athletes become Olympians through hard work and discipline, as does anyone who is successful in business, the arts, and even in love. If it required no effort or sacrifice, your wish would already exist. Discipline is the unglamorous but necessary bridge between desire and fruition.
4.) Kick your Willpower into High Gear.
Expect to encounter many obstacles that make your dream seem out of reach. Everyone encounters them. Walt Disney was fired by a newspaper editor because, "he lacked imagination and had no good ideas." He had many failed business after that time, which led to bankruptcy. Due to willpower, he eventually succeeded in momentous ways. In fact, most of the greats are great due to their willpower. Where there is a will, there is a way.
5.) Stay Open to a Force Greater than Yourself.
Follow the above four steps and always keep in mind that there is a force much greater than you, which may have a more intelligent plan for you than you could ever dream. The closer your connection to this greater intelligence, the more aligned the two desires will become.
Call Heather today for a complimentary 30-minute strategy session where she will reveal three things you can do right now to bring forth love in your life and manifest your deepest desire. For more information and updates on passionate, healthy, and soulful relationships like Heather on Facebook or follow her on Twitter.
About Heather Hans
Heather Hans, LSW, MSW, CPIC, MSBA, CPA specializes in teaching people how to live a life of love and reach their fullest potential. Heather is dedicated to the highest form of compassionate healing, combing her professional knowledge, ethical leadership and spiritual nurturance to serve the community. She leads therapeutic and educational workshops and serves clients in her private practice. For more information visit http://www.heatherhans.com/.