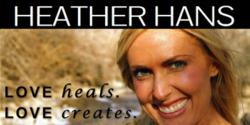 Boulder, CO (PRWEB) December 19, 2012
As the holidays approach, Love Expert and Psychotherapist, Heather Hans, is offering insights and a free 20-min strategy session for people looking to give up the drama and start loving life.
"War and violence is a barbaric approach to solving problems and is used by people who are uninformed and unskilled," added Hans. "On an individual level, such ignorance manifests as domestic violence, hollering matches, and self-criticism. On a global scale, it is revealed through combat and battle; through war."
The following steps will end war between nations, within relationships, and inside your own psyche.
1.) Form Supportive Relationships. The United Nations was formed as a result of World War II in order to bring all nations together for the well-being of the world's citizens, and our planet has not seen a war of that magnitude since that time. Everything boils down to relationships. When we develop strong, supportive relationships, peace, growth, and dignity are possible.
2.) Educate Yourself. Ignorance is the by far the biggest source of pain and destruction in the world and in the self. Skills, deeper understanding, and awareness allow us to make informed decisions for the highest good in our own lives, which then spreads to the world.
3.) Embrace Differences. Learn to view the differences between yourself and other people as compliments, rather than threats or weaknesses. Every individual, nation, culture, religion, and gender has certain unique strengths and characteristics. When we believe that we or "the other" are superior and feel the need to compete and make everyone the same, we diminish the valuable parts that create the sacred whole.
4.) End Oppression and Prejudice. Sexism, racism, and marginalization cause strife and inequity in the world that will naturally cause a backlash via war. Likewise, when we deny parts of ourselves, shame ourselves, and believe ourselves to be unworthy of love, we, too, will wage war and destruction on ourselves and spreads toxicity to the world.
5.) Embrace Spiritual Principles. Once you understand that you are one with the enemy, whether it is your inner critic or the other team, you will gain compassion that is at the heart of human enlightenment. Love heals; love creates; love is the most powerful force of all.
Call Heather today for a complimentary 20-minute strategy session to uncover what you can do to love life and manifest your deepest desires. For more information and updates on passionate, healthy, and soulful relationships like Heather on Facebook or follow her on Twitter.
About Heather Hans
Heather Hans, LSW, MSW, CPIC, MSBA, CPA specializes in teaching people how to love live and reach their fullest potential. She is dedicated to the highest form of compassionate healing, combing her professional knowledge, ethical leadership and spiritual nurturance to serve the community. She leads therapeutic and educational workshops and serves clients in her private practice. For more information visit http://www.heatherhans.com/.