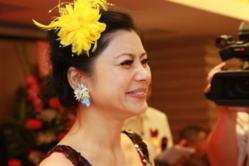 ...the truth is, getting married will help a couple to be more focused in their goals and careers and thus it will increase their ability to earn better wages.
Los Angeles, CA (PRWEB) April 30, 2013
In a study published from UCLA studying the income ranges of various nations from UK, Canada, Mexico, Russia to the US, it was revealed that married men has higher wages than their single counterparts.
According to the latest population report by US Census Bureau, married men between age 18-64 are higher paid in salary ($55,958 median income) than single men ($34,634). This report also showed married women earning more wages than single women.
The popular Beatles song goes "Money can't buy me love," however, can love be an important factor to increase one's income?
Taiwanese matchmaker and marital expert Hellen Chen has first-hand experience in witnessing the changes of a couple's life after they have gotten married.
"There is this misconception that one needs to have money before getting married. But the truth is, getting married will help a couple to be more focused in their goals and careers and thus it will increase their ability to earn better wages," said Hellen Chen, whose unique marriage views gained popularity in the US when her book "The Matchmaker of the Century" became a bestseller on the largest US retail book chain Barnes and Noble last year.
The book debunked many marriage myths such as "there are no more freedom after marriage" or "marriage is the end of romance."
Chen is well-qualified as an expert to discuss this phenomenon as she personally helped over 100 singles to get married and she had followed up with their lives after marriage.
She witnessed how the couples' lives transformed over a period of time and despite concerns about financial burdens, couples excelled even better in their careers than they did before, even with the arrival of children.
In a recent interview with EFE, the largest Spanish news wire, Chen spoke about how society encouraged academic and financial achievements and single people waited too long to settle down.
Chen also mentioned, "There is a Chinese saying: 'they are so poor that they only have money." That means, a person only knows how to make money but he knows no happiness, no future and only has possession of material comfort and nothing else.
Chen's maverick matchmaking theories caught the eye of an award-winning documentary director who then followed Chen around with a camera, making her stories into a real-life feature documentary - the first ever -- on the subject of love. The film "Let's Fall in Love" became a large audience's favorite in major film festivals around the world. This film was shown in Beijing universities and also at the California Oakland International film festival recently.
For years as a business management consultant, Chen had addressed leaders and executives of government agencies, corporations and colleges around the world to give solutions on boosting productivity and improving leadership qualities.
"In every lecture that I give, the answers to better work results always end up with the areas of 'are you being a good spouse or parent in the first place?' or 'how do you treat your loved ones at home?'" said Chen.
Chen has begun a series of relationship workshops in Taiwan and in America to help working professionals who are single or married to enrich their personal lives and thus overall financial growth and career. More information can be found on http://Matchmakerofthecentury.com