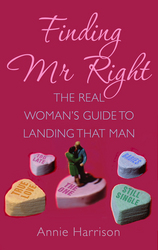 London, UK (PRWEB) August 3, 2009
Over the years, Bridget Jones struck a chord with many single thirtysomething women, especially those who feared they would never meet their life partner and that their fertility was about to drop off a cliff. For all those present day Bridget Joneses, help is at hand in the form of a new book, 'Finding Mr Right' by Annie Harrison. This anthology contains a wide range of inspirational and frank true-life experiences, and will offer hope to the thousands of intelligent and good women who still want the man and/or the baby before it's too late.
Top British journalists including Toby Young and Mariella Frostrup, together with dating agency founders, fertility experts, agony aunts, psychologists, academics and mistresses all offer their informed wisdom. Perspectives are also provided by single parents, divorcees, a sperm-donor's offspring, the childless and child free. A whole section of the book is dedicated to the emotive topic of babies, including the extreme measures some women of a certain age will take to have a child.
'Finding Mr Right contains cautionary tales plus many heart-warming and uplifting true stories of women who have overcome their 'Bridget Jones' status to find happiness. It's not a 'how to' book. It's more of an inspirational collective of experiences and insights, from both men and women, examining the plights of reluctantly single women in their late thirties/early forties and offering a way out of the maze.
Annie Harrison married at 38 and had two sons in her forties. She lives near Canterbury in the UK with her family. This is her first book.
Book available at Amazon.co.uk priced £12.99
Please contact Catherine Bailey (Publicity Director) JR Books on
+44 (0)20 7284 7194
###