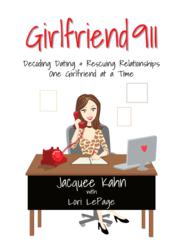 According to relationship expert, Jacquee Kahn, "the dating world is such a mess because nobody knows what their role is anymore. This is not the fault of men. Men are getting away with bad behavior only because women have allowed them to.
Los Angeles, CA (PRWEB) February 09, 2012
It's been said Albert Einstein defined insanity as doing the same thing over and over again, and expecting a different result. In her eye-opening new book, Girlfriend 911, relationship guru Jacquee Kahn puts an end to the insanity with a step-by-step guide to rescuing relationships in trouble, and helping single women find and keep "Mr. Right."
Often referred to as the "Super Nanny for Women"—a nod to no-nonsense parenting expert Jo Frost—Kahn's approach is concise, straightforward, and backed by proven results. Based on years of helping her girlfriends (and their girlfriends, and their girlfriends, and so on) with all sorts of relationship woes, Kahn devised a "formula" for attracting and maintaining a healthy relationship. She details her secret formula in Girlfriend 911 and provides easy-to-follow instructions, fascinating relationship "case studies," and extraordinary outcomes.
In relatable, girlfriend-to-girlfriend language, Kahn exposes the root cause of relationship failure and skillfully illustrates how immediate the results can be once you get with the program. This book is an invaluable tool for any woman regardless of her relationship status. Single, dating, in a relationship, and even married women can benefit enormously from the Girlfriend 911 program and the lessons contained within.
Girlfriend 911 boasts its own online community. A one-stop shopping for dating and relationship help, users can read "Dear Girlfriend 911" dating disasters, share their own stories, and get Kahn's expert advice on how to date the GF911 way.
The Proven Program

How to stop making decisions based on the fear of being alone
How to set standards and boundaries and avoid being taken for granted
How your "Smartphone" can lead to not-so-smart relationship decisions
How your actions can actually cause the opposite reaction you're hoping for
How to spell out exactly what you want from the relationship
How to really deal with a man who can't commit—without compromise
About The Author
For years, Jacquee Kahn has been dispensing "Super Nanny"–style tough love to women in need of relationship help. Her no-nonsense, straightforward advice became the foundation for the Girlfriend 911 program. Jacquee began her career at the Creative Artists Agency in Los Angeles, later transitioning to critiquing and editing screenplays. She currently has a number of writing and producing projects in the works. A native of Cape Town, South Africa, Jacquee moved to the U.S. at the age of 16. She earned a degree in English Literature from the University of California, Santa Barbara. She also studied Economics at London University College in England. Kahn currently resides in Los Angeles.
For more information visit:
http://www.gf911.com
https://facebook.com/Girlfriend911
http://twitter.com/Girlfriend_911
###
# # #