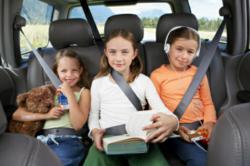 I wanted to create a simple platform for parents to connect with drivers for family pick-up services.
Falls Church, VA (PRWEB) November 16, 2011
With full-time jobs, sports practice, music lessons, and camps, family schedules can get hectic. But for most families, the problem isn't the need for a full-time nanny or babysitter; they just need a safe, reliable way to obtain rides for their kids. And RelativeRides.com offers the perfect solution.
Founded by New England native, Tracy McElroy, Relative Rides can connect parents to safe, affordable drivers for their children, and can be scheduled when families need them. Families can post ads for any transportation need from daily school drop off and pick up to driving children to after-school activities like soccer practice and piano lessons. "I was inspired to create Relative Rides when a co-worker was trying to find a driver to pick up her daughter every day from day camp and drop her off at swim practice in the afternoon, she had a very difficult time finding someone reliable that she could trust." said McElroy. "I wanted to create a simple platform for parents to connect with drivers for family pick-up services. Adding the background check service and access to references and drivers reviews helps parents gain peace of mind."
So how does it work? Families go to RelativeRides.com and set up their profile. They can search for drivers and post ads for a small monthly fee. RelativeRides.com has partnered with leading background search firm, Proforma Screening Solutions, which gives families the ability to perform full background checks on potential drivers. Families can also read real user reviews of drivers in their area. Once they find a driver they have the option of running an in-depth background check to complete the hiring process – it's that easy.
Relative Rides is always looking for qualified drivers, too. It's the perfect opportunity for retirees, college students, and stay at home parents to earn some extra money while helping families in their community. Those interested in becoming a driver for Relative Rides can simply visit the site and sign up for a free profile. Drivers are paid weekly or by the hour.
The Relative Rides community is growing every single day! Come check it out and see what all the buzz is about. Visit RelativeRides.com now!
###