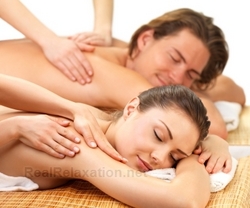 Berlin, Germany (PRWEB) June 23, 2008
For many people, real relaxation is as elusive as that famed pot of gold found at the end of a rainbow. But with the help of experts like Konstanin Koss, experiencing real relaxation is more than possible. In fact, it became recently accessible in a click through the Real Relaxation blog.
Few people can seriously say that being able to fully relax at any place and time is their ultimate goal in life. Konstantin Koss is one of those, however, and it is through his blog that he hopes to share the fruits of his labor with other people. At http://www.realrelaxation.net one can find valuable tips about relaxation and wellness, including but not limited to the how-tos and benefits of contrast showers, the five most affordable places to go for genuine relaxation, the latest trends in massage, and the root causes of stress.
In one of his current posts, Konstantin Koss introduces his readers to the wonders of Swedish massages. Most people's idea about massages generally coincides with the classical example of a Swedish massage. The Swedish massage was created in 1812 at the University of Stockholm by physiologist Henri Peter Ling. In massage courses and workshops alike, the Swedish massage is usually the first kind of massage a student is taught.
Koss itemizes the various purposes which a Swedish massage serves in his entry. Among the reasons cited are improvement pliability and suppleness of ligaments and tendons through stretching, increased circulation without causing greater burden to the heart, discharging metabolic waste like uric and lactic acid tissues to speed up the healing process for muscular strain, and lastly, toxin elimination and increased oxygen flow in the body. Swedish massages as a tool for stress management, according to Mamashealth.com, the source cited in Koss's blog, can also reduce physical and emotional stress as well as stimulate and soother nerves at the same time.
A number of benefits can be enjoyed by having a Swedish massage. With this type of massage, one can look forward to having a stronger immune system, relief from tension headaches, arthritis, and other painful medical conditions, improved posture, circulation, and respiratory function, reduced anxiety, depression, and fatigue, increased flexibility and athletic performance, better success with weight management, and relief from menopausal and PMS symptoms.
Various types of stroke are employed in a Swedish massage. Brisk taps or chops are called percussion strokes, passive and active moments simply involve bending and stretching while petrissage strokes make use of one's fingers and hands in kneading.
The information shared about swedish massages is the first of a two-part How to Massage series. More tips about other relaxation techniques can be found in his blog. Readers are encouraged to subscribe to his RSS feeds to receive automatic updates.
Konstantin Koss created the Real Relaxation blog to launch his stress consultation services online. He has worked as a trained massage therapist and aerobic instructor in previous times. A certified wellness guide, Konstantin Koss was born in Berlin, Germany and continues to offer his services there.
###