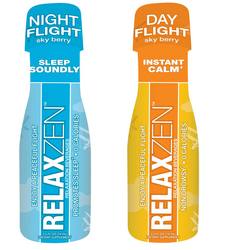 "When I take RelaxZen™ I can just settle in and enjoy my flight," Nick West, Chief Relaxation Officer
Los Angeles (PRWEB) December 8, 2009
Peaceful Remedies, LLC, the Shrewsbury, N.J. creator of RelaxZen™ Relaxation Beverages, has launched RelaxZen™ DAY FLIGHT and RelaxZen™ NIGHT FLIGHT, the first relaxation beverages specifically designed to address the stress of air travel. Launched at BevNET Live 2009, DAY FLIGHT and NIGHT FLIGHT will change the way people travel.
DAY FLIGHT and NIGHT FLIGHT were developed in response to the realities of air travel. Parking, check-in, security lines, screaming children, delays, crowded flights, turbulence, and layovers are all serious points of stress for air travelers.
Perfect for a flight of a few hours, DAY FLIGHT contains a blend of vitamins, herbs, extracts and amino acids that work in conjunction with your body to ease stress without drowsiness. Travelers will arrive at their destination refreshed and ready to work or play.
Formulated for long haul, overseas and red eye flights, NIGHT FLIGHT contains the additional ingredients of melatonin, valerian root extract and chamomile to induce a restful sleep while traveling and help prevent jet lag.
"I am very nervous during travel," said Nick West, Chief Relaxation Officer, "when I take RelaxZen™ I can just settle in and enjoy my flight."
"As a road warrior," said Brent Sonnek-Schmelz, Chief Zen Officer, "functioning after I travel is vital. DAY FLIGHT and NIGHT FLIGHT allow me function better than I ever have."
RelaxZen™ DAY FLIGHT and RelaxZen™ NIGHT FLIGHT will be sold exclusively through airports, airlines and other air travel outlets.
RelaxZen™ (http://www.relaxzenshots.com ) is the leading brand of relaxation beverages. All of its products are designed to calm the soul, relax the body and focus the mind. You can find RelaxZen™ products at convenience stores, pharmacies, groceries and other fine specialty stores.
###