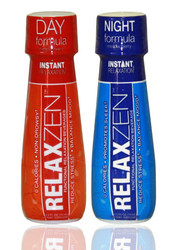 RelaxZen could become a part of every player's routine
Miami, FL (PRWEB) February 4, 2010
Peaceful Remedies, LLC, the Shrewsbury, NJ maker of RelaxZen™ relaxation products, will be featured in the NFL Players Lounge on February 4th during Super Bowl™ week. Players, media, coaches and their family will receive samples to try and share. RelaxZen ™ DAY, RelaxZen ™ NIGHT and RelaxZen ™ SPORT will be provided.
"We are extremely excited to share our products with the NFL," said Chief Relaxation Officer Nick West, "We think that given their hectic, stressful schedules, RelaxZen™ could become a part of every player's routine."
RelaxZen™ DAY was formulated to ease stress and provide focus during hectic days.
RelaxZen™ NIGHT was formulated to induce a restful sleep that allows the consumer to wake up refreshed and ready to tackle their day. RelaxZen ™ SPORT was formulated to provide the competitive or casual athlete with reduced jitters, a relaxed body and a focused mind.
"Athletes are a key part of our brand strategy," said Chief Zen Officer Brent Sonnek-Schmelz, "We have found that athletes may be able to improve performance by consuming our DAY and SPORT versions during the day and then inducing a better sleep with NIGHT."
RelaxZen ™ (http://www.relaxzenshots.com) is sold in 2.5 oz. bottles at a suggested retail price of $2.99 and comes in several formulations, including "non-drowsy" DAY for daytime use, NIGHT to promote restful sleep, and SPORT for active people to consume prior to physical activity. All contain a variety of amino acids, vitamins, and extracts, which promote relaxation, mental acuity, and reduce stress. They have zero sugars and zero calories.
###