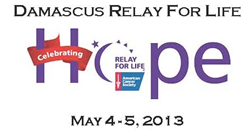 "A Relay For Life event is not only a way to join my community to fight back against cancer, but it is also a way to inspire hope by raising funds and awareness to help those facing the disease." – Sandy McDarby
Damascus, MD (PRWEB) April 30, 2013
A relay event is an overnight community fundraiser where teams camp out around a track while team members take turns walking around the track. This family-friendly event will be held on May 4, 2013 at the Damascus Volunteer Fire Department Activities Building where there will be food, games, and entertainment. To kick off the event, there will be an opening ceremony which starts at 2:00pm. At 2:45pm cancer survivors will take the first lap around the track to celebrate their victory over cancer. Throughout the day there will be a variety of family-friendly events including a photo booth from 4:00pm-6:00pm. At 9:00pm there will be a Luminara ceremony which involves votive candles that are illuminated after dark to remember those who succumbed to cancer and to honor those battling the disease. The closing ceremony will begin at 6:00am on May 5th to remember the lives lost and celebrate the commitment to fight cancer in the coming year.
About Team Cancer Busters
Cancer Busters is one of the twenty eight teams that will be participating in the Damascus Relay For Life on May 4, 2013. There are a dozen members on the team who have collectively raised 62% of their goal. "I lost a very special friend because of cancer and I feel like this is the way I can make a difference and continue her fight!" says team captain Sandy McDarby. Funds raised from the event are used to assist cancer patients with things such as travel and transportation to places that can provide treatment.
For more information on Cancer Busters and the Damascus Relay For Life visit http://bit.ly/11Qg5Yz.