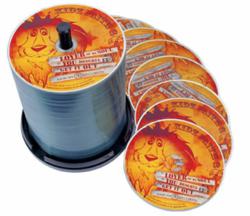 WTSmedia has experienced increased demand for both CDs and DVDs
Chattanooga, TN (PRWEB) October 17, 2012
Michael Salley today announced that WTSmedia has printed 30 million custom discs since 2006. With multiple high-speed offset and silkscreen printers, WTSmedia prints millions of discs each year. Despite some recent news agencies reporting the demise of the CD and DVD format, WTSmedia has experienced increased demand for both CDs and DVDs. Due to the low cost and high quality of professional CDs and DVDs, people continue to rely on the optical disc format for production, distribution, marketing, and back-ups. WTSmedia is a national CD and DVD Manufacturer based out of Chattanooga, TN.
In 2005, WTSmedia filled a niche by being one of the first national CD Manufacturing companies to offer professionally printed media onto blank CDs and DVDs. In times past, the only tools available to most users was a permanent marker or a paper label. Obviously, neither one could project a professional image. Inkjet technology has improved to allow many customers the ability to print full color direct-to-disc images, but the equipment is expensive and the final product can smudge or smear as it gets handled. The solution offered by WTSmedia is a large scale printer, traditionally used by large CD manufacturers in pre-recorded releases. The quality is the exact same, but with the flexibility to record one-offs at the leisure of the customer or as they need them. Without the headache of trying to print discs, it leaves customers time to focus more on producing high quality programs to sell or distribute.
As customers soon realized they could purchase the same high-quality on-disc printing as national pre-recorded releases, sales for pre-printed media quickly increased. WTSmedia has expanded numerous times over the last few years to meet this increased demand. Just recently, WTS purchased a new digital printer to meet the needs of customers requiring as little as 100 custom printed professional discs.
If you would like to learn more about WTSmedia or custom disc printing, visit http://www.WTSmedia.com.