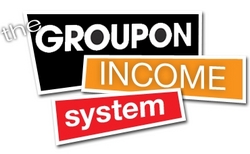 People are generally not aware that they can make a lot of money from unused Groupon's and other Social Coupons.
Indianapolis, IN (PRWEB) March 1, 2011
What if someone could show you how to cash in on the social coupons craze without having to create sites like Groupon? Well, a new business model known as The Groupon Income System is attempting to achieve just that.
Since Groupon was launched in 2008, there have been a large number of copycats all trying to replicate Groupon's success. Some of the companies that have been able to come close to giving Groupon credible competition include the likes of Living Social, Gilt City and Tippr amongst others. The success of Groupon has also led to the growth of several sub-industries such as aggregator sites which list all the daily deals from all competing social coupon sites.
The Groupon Income System identifies one such sub-industry and demonstrates how to go about setting up and running a unique business.
"People are generally not aware that they can make a lot of money from unused Groupon's and other social coupons such as those from Living Social and other Groupon competitors. The model relies on Internet marketing and social networking strategies. The interesting thing about this new business model is its high return on investment we are seeing, in comparison to the startup costs. The total startup cost is less than $100 but with higher investment, the returns increase exponentially.", says creator Jason Cooper.
Early adopters of the system are reporting high profits within a relatively short duration; there are numerous positive reviews. The manual is in eBook format and is available for purchase and immediate download at Groupon Income System.
"We feel that the manual is written in an easy, concise style and avoids any techno-babble. It was developed to be simple enough for the average Joe and comes with a 60 day money back guarantee if you are not satisfied.", says Cooper.
For more information about this new business opportunity, visit Groupon Income System.
###