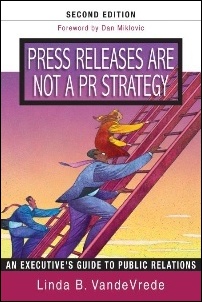 Press Releases are not a PR Strategy
SCOTTSDALE, Ariz. (PRWEB) March 27, 2007
"Press Releases Are Not a PR Strategy" shares proven approaches to making sure your company's strengths are made known to the right media. Whether you're new to PR or a seasoned veteran, every chapter of this valuable guide delivers insights and tips you can put to work today.
You'll master the nuts and bolts of successful PR strategies and learn how to apply them in today's message-saturated environment - without spin, manipulation or questionable practices. Now in its second edition, "Press Releases Are Not a PR Strategy" features new information on blogs, wikis, and podcasts, an expanded resources directory, and a new appendix of practical samples.
How to order
CEOs, entrepreneurs, PR professionals, and students alike have found "Press Releases are not a PR Strategy" to be a helpful guide to PR success. For more information, please visit http://www.vandevrede-pr.com or call 480-551-1258. The book is available in paperback for $18.95 from http://www.amazon.com. ISBN13: 978-09762527-1-9, 169 pages.
About the author:
Linda VandeVrede has 25 years of experience helping companies of all sizes and at all stages enhance their market leadership position through proven public relations strategies. She has won the American Society of Business Publication Editors' Gold and Silver Awards for her business writing, and is a member of the PRSA Counselor's Academy.