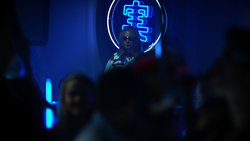 In CSI :Crime Scene Investigation episode 904, Let It Bleed, we had a dance club scene, and everyone was open to bringing Paul Edge into it because I was looking for the authenticity of a nightclub. I like to bring the audience into new realms and adventures that different music offers and Paul's music was the perfect choice
London, UK (PRWEB) September 30, 2009 - On October 31 2009, "CSI-
Crime Scene Investigation" aired it`s Halloween special, Let It Bleed. The opening scenes take place in a packed nightclub, and the pounding soundtrack compromises of two never before heard tracks from British DJ Paul Edge, his reworking of the Stone Temple Pilot anthem "Sex Type Thing" which is mixed seamlessly into Edge`s own composition, "Release Urself". "
"In CSI :Crime Scene Investigation episode 904, Let It Bleed, we had a dance club scene, and everyone was open to bringing Paul Edge into it because I was looking for the authenticity of a nightclub. I like to bring the audience into new realms and adventures that different music offers and Paul's music was the perfect choice," states CSI Co-Producer Phil Conserva - Dance fans were cued in, as were fans of Paul's …. By doing this, we reached out to that international market even more, which is something I've been really interested in doing."
Let It Bleed attracted over 19.1 million viewers in the US, making it one of the most watched CSI episode`s for Season 9, a contributing factor no doubt being Paul Edge`s ever increasing online following that has been developed through his award winning agit-prop viral music videos, We Will Not Be Silenced, and his groundbreaking genre that has been pushed to the forefront of worldwide electronic music culture by the Myspace community, Psychedelic Dance Music, which has attracted in excess of 3 million profile views and 4 million plays in a little over 2 years.
In a statement, Bonzai Music added "The original version from Paul Edge's monster tune has been featured in a CSI Las Vegas episode about a year ago exposing millions of viewers to his psychedelic dance music. When we signed this release we were stunned about the music, the artist and the followers he has. Now with an army of remixes by Woody McBride, Rogerio Martins, Audax, DJ Ghost and Shall Ark, we think this release gets all the touches it needed to reach out for today's club scene and to conquer the world just like CSI has. A powerful release on our main imprint Bonzai Music in all the right flavors, going from pure techno to tech house and banging hard dance. The track has been distributed to over 300 worldwide digital music download portals, including I-Tunes, Beatport and Trackitdown."
###