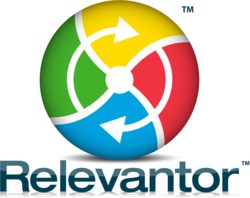 Relevantor's web marketing solution will be more vital to site owners than ever before as they strive to make the most of every hit.
New York, NY (PRWEB) October 28, 2011
There's no doubting the fact that Google's recent decision to dominate the realm of web analytics and ostracize organic SEO providers has the web marketing industry scrambling to come up with a plan B. Despite this upheaval affecting a large portion of the web marketing industry, Relevantor LLC, remains more relevant, if you will, than ever. The company's revolutionary content optimization solution uses a patent-pending relevant content algorithm to display the most appropriate and appealing content available to web users. The full version of the service will launch on November 8, 2011 at the renowned digital marketing tradeshow, ad:tech New York.
"The unique algorithm we've developed isn't reliant upon Google's search term data," says Vladimir Miroshnichenko," Co-Founder and CTO of Relevantor, LLC. The company's service which analyzes a customer's digital footprint and uses the results to present the most relevant content available to the visitor utilizes a variety of criteria in order to individualize a visitor's experience. Data such as geographical location, time of day, previous visits, and referral sites help website owners decrease bounce and abandonment rates while increasing their conversions—the primary goal of any business or organization with an online presence.
Although the web marketing service does use organic search terms as just one of the ways it enables clients to provide optimized content to their online guests, this data comes from a myriad of different search engines, not just Google. And although Google is the Goliath of all search engines, their new encrypted search will only affect users who are signed in to their Google accounts—a mere ten percent of web users on average who utilize their service, according to the search engine giant itself.
What does that mean for Relevantor? It means the algorithm will continue to analyze approximately ninety percent of the search data Google collects. And that's in addition to unlimited access to information from Google's competitors, namely Yahoo and Bing.
"Google's new regulation has really turned the SEO and e-marketing community on its head, but we're not in the business of driving traffic to a site; we're in the business of keeping it there," Co-Founder and CEO Efi Rodik notes. Relevantor has a lot of tools at their disposal to ensure that web visitors stay engaged and interested, thus helping web site owners increase their ROI and make their web marketing dollars count. Thanks to Google, these sites may be getting less traffic than before the SSL encryption, meaning Relevantor's web marketing solution will be more vital to site owners than ever before as they strive to make the most of every hit.
About Relevantor LLC
Relevantor LLC is a breakout company that specializes in web optimization and marketing services. The company was founded by a team of web marketing, design, and programming experts and is based in New York City. The company is currently accepting applications for BETA users and will launch the full version of their web marketing service at ad:tech New York this November.
About Relevantor™
Relevantor is a revolutionary service that delivers relevant and appropriate content to every visitor on a website using the service. By doing so, Relevantor dramatically decreases bounce and abandonment rates while increasing the conversion rate and visitor engagement. The remote platform uses a patent-pending relevant content algorithm to optimize the website's existing content for the purpose of heightening interest and promoting actions on the part of the visitor.
###