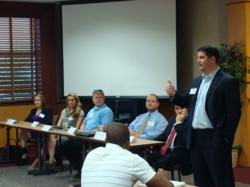 "ReliaQuest and our employees can make a big impact by continuing to assist students to excel in the job market," says Murphy
Tampa, Fla. (PRWEB) February 21, 2012
ReliaQuest CEO and President, Brian Murphy, spoke to multiple business communication classes at Florida State University(FSU) Wednesday, Jan. 18. While visiting FSU, he also spoke at the College of Business Coffee and Careers Development Workshop.
As CEO and president of project staffing and integration services firm, ReliaQuest, Brian Murphy is an expert when it comes to communication and hopes to continuously share his expertise to help students of his alma mater.
Murphy believes "ReliaQuest and our employees can make a big impact by continuing to assist students to excel in the job market."
"Despite the news, hundreds of employers are actively hiring and my hope is to give students ideas on how to find these jobs. If given the right tools, undergraduate students should have no problem finding employment," says Murphy.
In order to find employment, undergraduates need to have a well developed background and resume. During business communication classes, Murphy gave insight to FSU students about what employers look for on resumes and during interviews.
As guest speaker at the Coffee and Careers Development workshop, Murphy focused on his knowledge of career entrepreneurship. After the workshop, he stayed to help students one on one by critiquing resumes.
Murphy enjoys helping students and plans to continue his visits to Florida State University.
Founded in 2007, ReliaQuest, a Tampa, Fla. based company, with offices in Baltimore and Jacksonville, provides project staffing and integration services to the global communications technology industry. For more information on ReliaQuest, please visit ReliaQuest or email us at pr(at)reliaquest(dot)com.
###