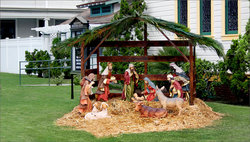 We feel great to be able to report 100% success in protecting these cherished items
New York, NY (Vocus) December 9, 2009
Last year, BrickHouse Security offered GPS tracking devices to religious institutions across the country interested in protecting their nativity scenes, Menorahs, and holiday decorations. "We feel great to be able to report 100% success in protecting these cherished items," said Todd Morris, the company's CEO. "Still, we are sad that many institutions didn't know about the program and experienced thefts or vandalism."
BrickHouse Security is renewing the program this year, adding motion-activated camera surveillance to its arsenal. The company, a provider of safety and security products to consumers, most of the Fortune 500, and major law enforcement agencies, is highlighting the program through three (wise) churches located coast to coast. Each will receive not only a GPS tracker, but also the new Global Watchman remote cellular surveillance system. This system instantly captures images when it detects motion, whether in light or complete darkness, and automatically sends them as an alert to a PC or cell phone.
Grahm Memorial Presbyterian Church, located in Coronado, CA, is new to the program. "Last year, we bolted down all of our nativity scene figures," said Phil Manion, the church Deacon in charge of the nativity scene. "Despite that, Baby Jesus was stolen and other figures were damaged. This year we'll use GPS tracking and surveillance to catch them in the act and track down these items. The nativity scene means a lot to our congregation, not to mention being expensive to replace, and we're eager to keep it intact through the holidays."
The second highlighted church is St. Ambrose in Old Bridge, NJ, a participant in last year's program. Said church member Alan Czyzewski, "We actually installed the small GPS device in the Jesus figurine. Fortunately, true to the Tale of the Magi, Jesus remained in the manger and out of a cross-town pursuit."
The third church, representing the program in the Midwest, is St. Mark's Episcopal Church in Glen Ellyn, IL. Said George Smith, the church's rector, "Our nativity scene was untouched last year, thanks in part to the GPS system. We're certainly hoping that the prospect of picking up a tracking device diverts any attempts to remove the figures from the nativity scene this year, too."
About GPS Tracking
GPS tracking devices are used to locate objects virtually anywhere in the world using satellite technology. Most are small enough to covertly fit inside most everyday objects. Moving or tampering with the object triggers a silent alarm, alerting the owner that the object is mobile. The owner or police can then view the object's path through a mobile phone or computer wherever it goes.
GPS tracking & GPS Logger devices are finding their way into many new tracking applications, including organ donor shipments, child safety, vehicles and large equipment recovery, undercover police stakeouts where officers use the panic button to signal distress, and wildlife movement. For example, one BrickHouse Security customer used GPS to track alligators' movement patterns.
How to Participate
Organizations interested in participating in this program should visit http://blog.brickhousesecurity.com/baby-jesus-gps/ and supply their background and contact information. Those selected to join will receive a free GPS Tracking device to use through the holiday season, and in some cases will also receive a surveillance camera.
"Like our customers, we at BrickHouse Security value the sanctity and harmony of the holiday season. We are happy to be in position to come to the aid of churches, temples, and other organizations looking for a way to protect their community from this crime," said Mr. Morris. He added: "While we can't blanket every nativity scene or Menorah, we hope that the potential of GPS tracking and the examples set by our three highlighted churches is enough to discourage would-be thieves and vandals from putting a damper on the holiday spirit.
About BrickHouse Security
BrickHouse Security provides security and surveillance products to consumers, businesses of all sizes including roughly half of the Fortune 500, and more than 500 local and national government agencies such as the NYPD, LA County Sheriffs, and the FBI. The company and its products have recently appeared on the CBS Early Show, NBC's Today Show, ABC's Good Morning America, Fox News, and the Associated Press.
BrickHouse Security offers a wide range of leading-edge safety, protection, and counter-surveillance products to help its customers protect what they care about most. Its industry-leading experts seek to be the go-to source for all of its audiences' needs by providing timely information through the company's informative blogs and content, and by identifying, developing, and selling quality products that represent the best and the latest in safety and security.
The company is headquartered in New York City and serves a diverse US and international client base.
Media Contact
Andy Stevenson
VP of Marketing
BrickHouse Security
646-253-9130
###