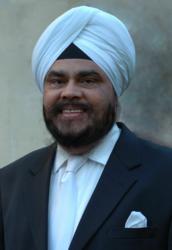 Sikhs should learn to distribute weapons, the weapons of education containing the ammunition of Sikh values.
Oyster Bay, NY (PRWEB) August 08, 2012
Akin to any crime, the days following the shooting at the Sikh Temple in Oak Creek, Wisconsin are buzzing with discussion on one question, "why?"
Opinionated answers range from the Neo-Nazi beliefs of the alleged shooter, 40-year old Wade Michael Page, to the mistaken identity of Sikhs for Muslims and the aftermath of Sept. 11, 2001 incident, but no clear motive has been established. They are all right and all wrong, says Dr. Harsimran Singh. The answer, Singh says, to why the shooter killed six in the Sikh Temple of Oak Creek, Wisconsin on August 5th, is simple: thoughts. The preventative solution, which will result from a proper analysis of those thoughts, is cultural education, according to Singh.
Dr. Singh comments that each and every action begins with a thought. Some thoughts are subconscious, others are obvious, but they all cause a domino effect of results. As the FBI and the police force busy themselves with protecting Sikh communities from a possible ricochet effect, our job as Americans is to understand the assailant's reasoning so that we may prevent future acts of violence, Singh said
Dr. Singh advises to start with the basics.
"We know that sometime before Sunday 10:30 a.m., Page had the idea to ambush the Sikh Temple in Oak Creek, Winsconsin. He was also most likely aware that Sunday would have the most attendants in the gurdwara, hence it was a pre-meditated attack – a thought that took time to grow. Based on the information provided by the investigators, the shooter was a participant in a Neo-Nazi music band, End Apathy, making it not surprising that he had the thought to attack a non-white community," he said. "This brings us to the most crucial questions in unraveling the story and preventing future disasters: Why did he attack the Sikhs specifically?"
While there is plenty of speculation on whether he mistook Sikhs for Muslims, few address the Sikh beliefs, Dr. Singh comments. As seen in http://www.SpiritualDirections.org, Dr. Harsimran Singh, an author of numerous books on comparative studies on 10 world religions including Sikhism, states that Sikhism is one of the most peaceful religions, upholding love for all humanity – yes, even the non-Sikhs. Unlike a number of religions whose purpose is to spread the word and convert, Sikhs keep their beliefs to themselves and are accepting of all others.
According to Singh, future events of violence will only be prevented with cultural education. Although American grade-schools do their best to keep away from discussing religion in depth, it is becoming a dire necessity. After all, we live in a country that is built on immigrants and as more will inevitably come to the United States, we must learn to be tolerant and accepting of their beliefs – no matter how strange they may be to us.
Dr. Singh says if Wade Michael Page had been educated on Sikhism, he would have understood that Sikh communities are some of the most industrious in the United States, boosting our frail economy. Page would have also known that Sikhs are not Muslims, nor did they play any part in Sept. 11, 2001. Overall, any thought that would have caused him to be violent towards such a peaceful, productive community would have dissipated.
Too many Americans, including Sikhs, are curling back in fear and remorse when action needs to be taken most, Singh said. As we begin to understand the assailant's thoughts, we must all take action. Sikhs cannot expect Americans to self-educate themselves, but instead they must take after Dr. Singh and provide education on their cultural beliefs. Given that knowledge is the best weapon, Sikhs must now distribute arms.