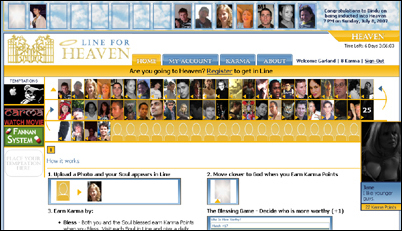 Am I going to Heaven?
San Francisco, CA (PRWEB) July 10, 2007
What if you could make a reservation that guaranteed you a place with God in Heaven, just by playing a game on a website? LineForHeaven.com, the first website from iMoments, Inc., offers this for the first time in history. Well, sort of.
Designed like a board game, LineForHeaven.com is the hot, new Web 2.0 social gathering for people who want to go to "Heaven". The rules are simple: Those with the most Karma Points may earn a chance to become "Closer to God".
The first religion-based Web 2.0 site in history, LineForHeaven is open to all religious views and feels anyone should be able to get into Heaven, i.e. nobody will be denied entry on basis of religion. The only requirement is to do good deeds.
Today, LineForHeaven.com proves their slogan "Religion can be fun!" and boasts a successful 07/07/07 launch as it makes its debut during the work week. And, of course, it's free.
No Direct Competition for Earth-shattering Concept
LineForHeaven is conceptually the most unique website since the ultra-successful HotOrNot and MillionDollarHomePage. Focusing just on the social arena, there exist the MySpaces and the Facebooks, but there are no truly competitive religion-based alternatives. And none of the available sites incorporate gaming, social gathering, and advertising in such a novel approach.
The Site You've Been Waiting for
80.7% of the world believes in Heaven, according to data from Fox News and ReligiousTolerance.org, but where are the religious Web 2.0 companies? Without being too self-important and serious, LineForHeaven offers people an opportunity to save their "Soul" and reserve a place in "Heaven". Finally, here is a website where believers and non-believers can unite in a light-hearted, non-hostile environment.
Many people have asked themselves, "Am I going to Heaven?" LineForHeaven helps to answer that question. Users can determine their worthiness for "Heaven" by building up their "Soul" and earning Karma Points. Getting into "Heaven" is just a few steps away:
1. Create your profile
2. Earn Karma Points
3. Get into "Heaven"
LineForHeaven appeals to the huge market of gamers, advertisers, auction dollies, social networkers, etc. With LineForHeaven's rapid photo browsing gallery, advertisers can get a "God's Eye View" of the people who are looking at their ads. For extra incentive, people even get points by clicking on ads, making LineForHeaven a hot place to advertise.
LineForHeaven also eliminates the pain points of other novel sites. For example, for its youth-oriented membership, MySpace faces safety concerns that do not exist for LineForHeaven. Whereas many other social networking sites focus on external appearance, LineForHeaven focuses on what's important - the inside (one's inner virtue).
Religion aside, this is also the hottest new place to promote one's work (e.g. movies, music, art) online. Thousands of people have been visiting the site just to look at people's profiles. New users are encouraged to register for free and become a VIP member now, before LineForHeaven becomes too crowded like MySpace.
Key Features
Line For Heaven - Users can advance their position in line by earning Karma Points a variety of ways.
"Heaven" - Top users will be displayed here. The person with the highest Karma at 7 PM PST each Sunday will be featured in this VIP space at the top of every page, will earn their Wings, and will be "One Degree From God".
"God's Eye View" - Users can check out who's currently jumping ahead in line from "God's Eye View" via our rapid photo browsing gallery of "Soul" pages.
Blessing Game - This game allows users to vote, helping decide who is more worthy by comparing two "Souls" side-by-side. Blessings can also be given directly from "Soul" pages.
Repent - Users can confess sins online and ask their peers for forgiveness. Forgiveness is achieved when enough users accept the plea for forgiveness.
Temptation Line - LineForHeaven features two lines, the main one for users only and the Temptation Line for both users and advertisers. In the Temptation Line on the left, an advertiser or user's position is determined probabilistically, such that the advertiser or user with the highest number of Temptation Points has the highest chance of being featured at the top spot of the line.
In the main line, a user's position is based deterministically on the number of Karma Points, like experience points in role-playing games, and the date and time of registration is the tie-breaker, if needed. One can move up in line by repenting, forgiving, blessing, donating, spreading the word, and, in the near future, by supporting worthy social causes. All these fun activities help a user and his/her friends accumulate Karma Points so that one can get ahead in line and, when "Judgment Day" comes every Sunday, be most likely to be inducted into "Heaven", "One Degree From God", and showcased to all users.
LineForHeaven.com's online presence also includes YouTube trailers and Facebook applications, which all can be accessed at http://www.LineForHeaven.com .
About iMoments, Inc.:
Founded in 2007, iMoments, Inc., features a team that includes an Electrical Engineering Ph.D. from Stanford University as well as world-class Web 2.0 developers, specializing in PHP and Ajax. Privately held and funded and based in the San Francisco Bay Area town of Livermore, CA, iMoments, Inc. can be reached at http://www.iMoments.com .
###