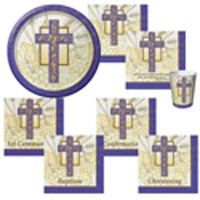 Baptisms, Christenings, Communions and Confirmations are important milestones for devout individuals and families, and we would like to shine a spotlight on elegant decorations and tableware that would make such events more memorable
(PRWEB) March 04, 2009
Orange, California (PRWEB) March 4, 2009 -- Available now at My Paper Shop.Com are several elegant and innovative Religious Themed Party Supply collections and accessories fit for either general celebrations or specific religious sacraments. All new Christian themed discount party supplies are available just in time for Christenings, Baptisms, Communions and Confirmations and can be found exclusively online at http://www.mypapershop.com/ in bulk quantities and wholesale prices.
Religious and Christian themed ensembles include Religious Crosses, a classy design available in green, blue and pink simple, which features all the party supplies needed to make any holy or religious celebration picture-perfect. The sets include paper napkins, plates and cups, party invitations and thank you cards, decorations and favor boxes.
"Baptisms, Christenings, Communions and Confirmations are important milestones for devout individuals and families, and we would like to shine a spotlight on elegant decorations and tableware that would make such events more memorable," says Todd Theo, My Paper Shop.Com President.
Decorations for the joyful day include elegant centerpieces such as our Faith Tri-Fold Centerpieces and Mini Cascade Centerpieces, which feature religious crosses and symbols. Faith Assorted Cutouts and Religious Fringe Banners are also available to dress up your party.
Available to us for the first time are a wide assortment of Swankie® Hankie pocket tissues, which include gorgeous religious symbols printed on them. Each case includes 12 individual pocket tissue packages for only $14.95.
Our online store also offers various Religious themed accessories that will add an elegant and creative touch to this memorable occasion. Stained Glass Photo Albums are ideal for creating a scrapbook of any Baptism, Christening, Communion or Confirmation. Also available are Christian themed mini favor bags for friends and family joining the guest of honor on the special day. Metallic Balloons featuring a stained glass design make great themed decorations and festive additions to any celebration.
Religious Themed Party Decorations are available to add a dash of fun to your tabletop décor. Christian themed confetti features embossed crosses in various colors and styles as well as white doves. Party Candles perfect for themed sheet cakes are available in shapes of letters that spell out Baptism, Communion, Christening and Confirmation.
Christian Themed Invitations and Thank You Cards for the special and sacred day are available in a wide variety of designs and styles. Imprintable Invitations are ideal for customizing party details and invitation messages for special guests. Postcard party invitations are presented in styles designed for a general religious celebration or are also available for theme specific occasions in various colors. Add a personal touch to the sealed envelopes with religious themed value stickers in shapes of crosses
Prices for religious and Christian themed beverage and luncheon napkins range from $27.95 to $52.95 for case quantities of 192-432 napkins. Dessert and luncheon plate prices range from $18.95 to $62.95 in cases quantities of 96-300 plates. Religious themed accessories and decorations are priced as low $9.95 and party supply blogs customized for My Paper Shop.Com feature great ideas and helpful tips for decorating.
My Paper Shop.com also offers Super Saver Discounts, under which minimum orders of $200 qualify for a 10% discount, orders over $650 qualify for a 15% discount and orders over $1500 qualify for our maximum 20% discount. Free ground shipping on orders over $40.00 USD is also available for customers shipping to the contiguous 48 United States. FedEx International shipping rates can be calculated during the checkout process.
My Paper Shop.com is an established discount party supply vendor since 2000 and supplies to individuals and businesses worldwide. For more information, on tabletop paper products or to purchase products, please visit MyPaperShop.com or call toll free 888-412-SHOP / 714-769-7000.
# # #