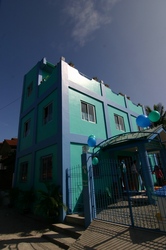 For some of the children, the Reliv supplements are the only nutrition they eat on many days
Chesterfield, MO (Vocus) May 5, 2008 -–
The Reliv Kalogris Foundation today announced the completion of a feeding center and a school for impoverished children in Cavite City, Philippines. The Foundation raised the funds last August during its "Walk for the Mission" in downtown St. Louis.
The Reliv Foundation provides nutritional supplements to approximately 270 organizations, including schools, hospitals, orphanages and feeding centers in 15 countries, but the Cavite City center is the first center built by the foundation.
"Our center is the only one in Cavite City registered and approved to operate a continuous feeding program," said Scott Montgomery, chairman of the Reliv Foundation. "For some of the children, the Reliv supplements are the only nutrition they eat on many days," he added.
Sister Beth Perez runs the Cavite City feeding center. In 2007, Sister Perez asked the Reliv Foundation to replace the tattered, blue vinyl tarp that served as the roof of her existing, one-story feeding center. Rather than provide a new tarp, the foundation built and furnished a new, three-story building, which includes the feeding center and a classroom.
"The completion of this feeding center underscores the Reliv Foundation's mission, to 'nourish our world' by providing Relìv nutritional supplements to support needy individuals and organizations throughout the world,'" said Montgomery, who is also executive vice president and chief operating officer of Reliv International, Inc.
Every day, the Foundation provides essential nutrition to approximately 42,000 people in 15 countries, most of them children living in poverty.
Approximately 4,000 Reliv distributors and their families participated in the "Walk for the Mission," which raised more than $180,000 for the foundation.
About Reliv
Reliv International, Inc., based in suburban St. Louis, Mo., is a developer, manufacturer and marketer of a proprietary line of nutritional supplements addressing basic nutrition, specific wellness needs, weight management and sports nutrition. Reliv sells its products through an international network marketing system of approximately 70,000 independent distributors. Additional information about Reliv International, Inc. can be obtained on the Web at http://www.reliv.com.
EDITOR'S NOTE: Photos of the original and new feeding centers are available on request.
For more information, contact:
Barry Murov,
Vice President, Corporate Communications,
Reliv International, Inc.
(636) 733-1303
###