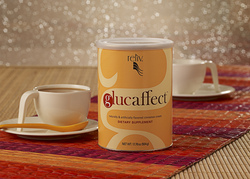 We see the study results of GlucAffect as a significant development.
Chesterfield, MO (Vocus) August 27, 2009 -
Reliv International, Inc. (NASDAQ:RELV), a nutrition and direct selling company, introduced its blood-sugar management product, GlucAffect, into Canada earlier this month.
A clinical study published in the journal Phytotherapy Research found that GlucAffect significantly reduced blood glucose levels and helped control weight in study participants. GlucAffect is a powdered supplement that people consume after mixing it with water or other liquids.
Elevated blood glucose levels and being overweight are key factors in metabolic syndrome, which dramatically increases the likelihood of developing diseases such as diabetes, heart disease and stroke. The metabolic syndrome affects approximately 1 in 4 Canadians, according to a presentation by Dr. Sonia Anand quoted on the "CME on Diabetes" Web site.
"Physicians today are increasingly looking to nutritional science as a complement to traditional care and prescriptive remedies for metabolic syndrome," said Dr. Carl Hastings, vice chairman and chief scientific officer. "We see the study results of GlucAffect as a significant development."
No other product available on the market includes the combination of innovative ingredients found in GlucAffect. Hastings added, "Ingredients were carefully selected based upon research, extensive testing, processes and controls instituted by Reliv's team of nutritional scientists."
The clinical study included 50 overweight individuals who had pre-diabetic glucose levels prior to the study. Subjects taking GlucAffect lowered their fasting blood glucose by an average of 30 percent and they lost an average of 16 pounds. Subjects in the control group reported a marginal decline in blood glucose levels and no significant weight loss.
The study was conducted at Gabriele D'Annunzio University in Chieti-Pescara, Italy.
The participants consumed GlucAffect or a placebo product four times a day for six days a week, participated in an exercise program and ate a healthy diet. They didn't follow the study regimen on the seventh day of the week.
About Reliv
Reliv International, Inc., based in Chesterfield, Mo., is a developer, manufacturer and marketer of a proprietary line of nutritional supplements. Reliv supplements address essential daily nutrition, weight loss and targeted solutions such as energy and performance enhancement, blood-sugar management, digestive health and anti-aging. Reliv sells its products through an international network marketing system of approximately 68,000 independent distributors. Additional information about Reliv International, Inc. can be obtained on the Web at http://www.reliv.com.
Contact:
Barry Murov
636-733-1303
barrym (at) relivinc (dot) com
###