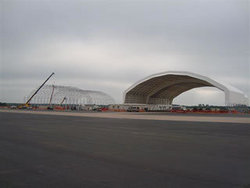 Sanford, ME (PRWEB) July 28, 2010
When a leading aircraft maintenance, repair and over-haul company needed a custom rail-mounted shelter system at its large airport facility, it turned to Rubb, Inc. to design, fabricate and install two of these systems.
The shelter systems consist of two structures: one is 155ft wide by 90ft long and the other is 166.5ft wide by 90ft long. These structures nest together and move along a 270ft rail system. The motor driven mechanism for each shelter system was custom designed by Alamo Door Systems of San Antonio, Texas.
The Rubb organization, with production facilities in the United States, Great Britain, and Norway, is recognized as a world leader in the design, development, and manufacture of relocatable structures.
###