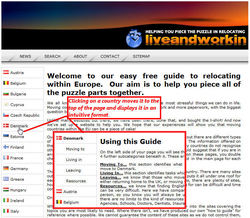 London, England (PRWEB) October 1, 2008
More and more people want to escape the UK credit crunch; they find the allure of living somewhere else in Europe appealing. According to Victoria Richards, spokesperson of new website liveandworkin.eu, finding the pieces to relocation success is like trying to find a path in a complicated maze.
Now thanks to liveandworkin.eu moving around Europe is simple. Liveandworkin.eu is now addressing a gap in the market for a free "one stop shop" which helps the adventurous British Citizen take that exciting next step.
Victoria tells us "Living in the UK has never been so difficult. The cost of living is rising by the day and the belief that it's unlikely to change is striking fear into the hearts of many. The result is that more and more people are looking for change. Our site has been designed with this in mind and no matter where within the EU you are considering a move, for the first time you can get all the information you need in one place."
The company designed the site by utilizing its own independent research in conjunction with input from approximately 20 of the 27 EU embassies in London. The site includes all 27 countries in the European Union and regardless of what stage someone is at, whether they are considering a move, already living there, or moving on to the next country, all of the information they will need can be found at liveandworkin.eu.
The company's goal is to be an invaluable resource to any British Citizen considering a move around Europe, as well as help individuals and families beat the UK credit crunch. Everything is available on the website in an intuitive format, making it simple to compare countries and their respective merits side-by-side. In addition, for anyone considering repatriation back to the UK for any reason, the site has that covered too.
More information can be found at liveandworkin.eu
###