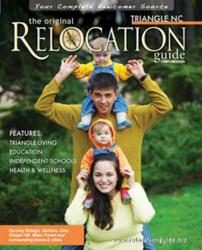 Raleigh, NC (PRWEB) September 04, 2012
Moving to Raleigh, NC is top of mind for many folks considering relocating in 2012, thanks to recent accolades. Raleigh is recognized as the Best Place to Live in the U.S. by Bloomberg Businessweek, and ranks No. 2 among the fastest growing U.S. cities, according to CNN Money. Charlotte, N.C. ranked No. 1, so there's definitely something about living in the South that's becoming more appealing to the rest of the country. Now folks have a publication specifically for the "Traingle, NC" to provide helpful resources to the Raleigh area.
This is not the first time Raleigh, N.C. or the Triangle -- which is Raleigh, Durham, Chapel Hill and now, Cary -- rank high on Top Ten Lists. In recent years, the Triangle has been recognized as one of the Best Places to Raise a Family, Best Places for Singles, Best Places to Start a Business and the list goes on.
In the Triangle, healthcare, education and technology are big business. At the center of the technology boom is what some refer to as the Silicon of the South -- that's Research Triangle Park. A small parcel of land in the center of the Triangle, which actually with a Durham address, is home to some of biggest names in pharma like Glaxo and Quintiles and tech companies like iContact, Red Hat and Cisco.
Healthcare takes center stage in the Triangle with patients relocating from around the country to receive treatment in the City of Medicine at Duke or down the road at UNC-Chapel Hill, both are ranked nationally for superior service in several medical disciplines.
Top schools like North Carolina State University, University of North Carolina at Chapel Hill and Duke University call the Triangle home. If you're into college sports, then you know Tobacco Road, and one of the biggest rivals in college sports history. Many people don't realize just how close Durham and Chapel Hill are to each other -- it's less than 10 miles from campus to campus. So be warned when moving to the Triangle, locals will be asked to choose Duke, Carolina or State.
The No. 1 thing for folks to do before moving to Raleigh, Durham, Chapel Hill or Cary: Get a Relocation Guide. It gives the lay of the land, and brief descriptions of the towns.
The Triangle is made up of several small towns -- Cary, Chapel Hill, Carrboro, Apex, Garner, Fuquay-Varina, Wake Forest, Wendell, Knightdale and Zebulon -- and two mid-size cities -- Raleigh and Durham -- and each area has its own unique personality.
Some tips for new residents, stop at local eateries. Try the BBQ or something fresh from the garden at the North Carolina State Farmer's Market. Triangle chefs are known nationally for their cuisine.
New residents also need to remember to be be Flexible. The Triangle is spread out and connected by Interstate-40, Interstate-440 (the Beltline) and Interstate-540 (the Outer Loop). It can take up to an hour to go from one side of the Triangle to the other in rush hour -- that's about 30 to 40 miles.
As a small town, main street appeal or urban chic, potential residents can find it all within a few square miles in the Triangle.
About Relocation Guide
The Original Relocation Guide is published by DonMark Custom Publishing serving the regions of North Carolina and South Carolina since 2001. We're designed to make your move to North Carolina or move to South Carolina less stressful. Our detailed maps, charts and informative articles inside the magazine are sure to enhance each family's moving experience. It is with the support of our advertisers that we are able to bring this magazine to you FREE of charge and conveniently distributed in over 1,000 different locations.
Contact information:
Relocation Guide
2435 Lynn Road Suite 106
Raleigh, NC 27612
919-518-0755
877-735-6624
http://relocationguide.biz
https://plus.google.com/u/0/b/116038701720940494256/116038701720940494256/posts
https://www.facebook.com/pages/Relocation-Guide-Magazine/131464410277898
###