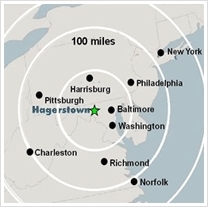 Hagerstown-Washington County is an affordable, strategic location for business—at the intersection of two major interstates (I-70 and I-81)and less than an hour from the Washington, DC and Baltimore metropolitan areas.
Hagerstown, MD (PRWEB) February 18, 2010
Located at the intersection of two of the Mid-Atlantic's largest interstates, just minutes from four states, and only an hour from the Baltimore and Washington, DC metro areas, there is no better—and more affordable—place for a business to be than Hagerstown, Maryland and surrounding Washington County. And now, for a limited time, businesses can take advantage of two excellent opportunities to relocate, expand, or establish a business at this strategic "Crossroads of Commerce."
RZFB Helps Businesses Get Tax-Exempt, Longer-Term Loans
As a part of the American Recovery and Reinvestment Act (ARRA), Washington County and Hagerstown has received $14 million for Recovery Zone Facility Bonds. "The RZFB program is a great resource for companies to utilize," said Timothy R. Troxell, CEcD, Executive Director of the Hagerstown-Washington County EDC. "This incentive complements the recently enacted Job Attraction and Creation (JAC) program [see below] to provide two big boosts for companies expanding or relocating in one of the nation's best places to do business."

Tax-Exempt Loans - RZFB bonds provide businesses with access to bank loans at reduced interest rates to help create and retain jobs.
Longer Finance Terms – RZFB bonds also enable much longer debt terms—up to 20 years instead of the 5 years typical for a bank loan.
Open to Almost any Business – RZFB bonds are not limited to industrial firms, but open to qualified businesses including retail, commercial, office, and service providers.
DEADLINE: The first round of RZFB proposals are due on March 17, 2010. All RZFB funding must be used by December 31st, 2010.
Job Attraction and Creation (JAC) Program Offers $1500 Per New Job Created
To help bring more jobs to the region, the Washington County Board of County Commisioners have dedicated $500,000 in funding for the Job Attraction and Creation (JAC) program. This program will help jumpstart growth for businesses moving to Hagerstown and Washington County in four ways:
Cash Incentives - $1500 will be provided for each new permanent, full-time job created. The money will be offered on a first-come, first-served basis until the funding is exhausted or June 30, 2010.
Permit Fee Reductions - Qualifying businesses will also receive significant reductions in Washington County permit fees. New or expansion project fees will be reduced by up to 75% for non-retail projects and 25% for retail projects. Reduced fees include building, electrical, HVAC and plumbing.
Fast Track Permitting – Qualifying business will also qualify for the County's Fast Track Construction Program
Extended Tax Payment – Finally, qualifying businesses may request a three-year payment program for the required excise tax
DEADLINE: Businesses must create qualifying new jobs by June 30, 2010. All cash incentive funds are allocated on a first-come, first-served basis, and applications are being accepted now.
A Variety of Business Space in Excellent Locations--Available Now
Hagerstown and Washington County, Maryland currently have over 500,000 square feet of office space available, and Washington County has over 1.8 million square feet of industrial/commercial space available. Existing spaces are wired for data and are suitable for a variety of industries. Following are some example industry types along with links to more information on available space that is well-suited for that industry:
MANUFACTURING: West Marine Building
LOGISTICS/DISTRIBUTION: Bowman Air Park Building and the Baer Building I and Newgate II (pad-ready site for construction)
OFFICE SPACE: Hub Business Park and the Susquehanna Center
AERO/DEFENSE/AVIATION: Topflight Airpark
The Crossroads of Commerce: Hagerstown and Washington County, MD: Ideal Business Location
Located at the Crossroads of Interstate 81 (accessing the nation from north to south) and Interstate 70 (connecting the nation from points east to west) Washington County, Maryland is the "Crossroads of Commerce." Less than 30 minutes from well-known national biodefense resource Fort Detrick in Frederick, MD, and within an hour's drive of both Washington,DC and Baltimore,MD, Washington County is an affordable place to do business with close proximity to major metropolitan areas.
--- Highly-Educated and Skilled Workforce ---
A productive, dedicated, and well-rounded regional workforce of 400,000 has made Washington County a choice location for manufacturers, financial services, and distribution companies. Government, business, and community organizations collaborate to help diversify the local economy. As a result higher paying jobs are being created in advanced manufacturing, aero defense, and biotechnology sectors.
The existing highly-educated and skilled workforce provides an incredible opportunity to new businesses and those looking to expand. Companies see value in doing business in Washington County as capital investment in 2009 peaked at over $150 million.
--- Pro-Business Climate ---
Washington County is known for a healthy, pro-business climate. With incentives and financing programs from a variety of sources, businesses get significant assistance to open, expand or relocate in the area. Company goals are achieved by working with partners and developing custom programs to maximize benefits for each business.
Beyond financial assistance, expert liaisons are employed to help ensure a smooth expansion and logistical process through the County's "Fast Track Program."
# # #