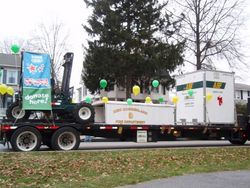 Fort Smith, AR (Vocus) December 4, 2009
Relocation company ABF U-Pack Moving believes in lending a helping truck. Each year the relocation company offers moving trucks and self storage containers to charitable organizations for collection of toys, food and other donations for families in need.
ABF U-Pack moving trucks and self storage containers work exceptionally well for holiday donation collections. Organizations such as Toys for Tots, The United Way and Feed America have utilized ABF equipment. ABF moving trucks and self storage containers, normally used in freight shipment and residential relocation, make the perfect collection containers. Conveniently sized, weatherproof and lockable, the equipment can be positioned in high visibility locations as drop sites. National charitable organizations, in need of equipment for collection efforts, should contact U-Pack for availability in their area.
Winter months are typically the slow season for relocation companies, and that can create equipment availability for charity usage.
Kay Lynn Clay, business development manager at ABF U-Pack Moving, says, "Considering the current economic condition, we know donations are a lifeline for many families. During the holiday season, the people at ABF U-Pack want to do what we can to give back. One way we can do this is by providing our moving trucks and self storage containers, or ReloCubes, to organizations that do so much for their communities. So, rather than paying for a rental truck, the charity can contact us, and we'll check on available equipment in their area."
So far ABF U-Pack is scheduled to place self storage containers and moving trucks in several cities for use by local organizations. U-Pack will assist the United Way of South Texas with their annual 12 Days of Christmas project, as well as The United Way of Rio Grand Valley. Toys for Tots will be assisted in several cities, including Camp Hill, Shippensburg, and Carlisle, Penn., and Buffalo, N.Y. Donation sites and information are available on the charities' websites for those wishing to make a contribution.
ABF U-Pack Moving is a leader in the self-move industry with a network of 281 service centers nationwide. U-Pack specializes in affordable do-it-yourself moving, combining the professional driver and equipment of traditional full-service moving companies with the cost savings of truck rental. Visit http://www.upack.com/ for more information.
# # #