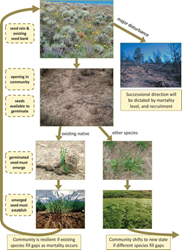 The authors indicate that additional emphasis on regeneration niche (mortality/recruitment), disturbances/resilience, and critical transitions will result in more accurate and predictive management decisions
(PRWEB) November 18, 2014
Rangeland Ecology & Management – Scientists have been collecting data on the different rangeland plant species since the early 1900s; these data are now being synthesized to build a predictive model of plant mortality and regeneration. The article "Incorporating Plant Mortality and Recruitment Into Rangeland Management and Assessment" in the journal Rangeland Ecology & Management provides an in-depth analysis of how information regarding plant life cycles may change rangeland management from an observatory, reactionary approach to a more predictive one.
The authors begin by discussing the concept of regeneration niche (mortality/recruitment) and the difficulty of determining a plant's life span. Some grasses may have an average life span of only 10 years whereas some woody species have been known to live for 1350 years. By looking at both the biotic (positive/negative impact of surrounding adult plants) and abiotic (drought, temperature, soil characteristics, etc.) factors that can affect the mortality and regeneration of a species, patterns may begin to emerge.
The authors found that there are many definitions and conceptual approaches surrounding how plant species react to disturbance. Overall, disturbances do influence the regeneration niche. One example of disturbance is fire, which is a common occurrence; however, a lack of fire to clear out the underbrush of dead/dying plants has an acute or immediate effect on mortality. The authors also considered critical transitions or tipping points that refer to conditions that enable an ecosystem to transition to an alternative stable state. These transitions may be the appropriate time to investigate how the system copes with the disturbances, and to determine the amount of disturbance necessary to induce mortality and the type of species that would grow in the newly created regeneration niches.
The authors indicate that additional emphasis on regeneration niche (mortality/recruitment), disturbances/resilience, and critical transitions will result in more accurate and predictive management decisions. Much of the current data needs to be synthesized and there are gaps to be filled with new research, including research into life span, community, seeding issues, sequences and timing, and disturbances and transition; but having a more predictive ecological model will support sustainable rangelands.
Full text of the article, "Incorporating Plant Mortality and Recruitment Into Rangeland Management and Assessment," Rangeland Ecology & Management, Vol. 67, No. 6, 2014, is now available.
###
About Rangeland Ecology & Management
Rangeland Ecology & Management is a peer-reviewed journal of the Society for Range Management that is published six times a year. The journal provides a forum for the presentation and discussion of research information, concepts, and philosophies pertaining to the function, management, and sustainable use of global rangeland resources. The journal is available online at http://www.srmjournals.org. To learn more about the society, please visit: http://www.rangelands.org/