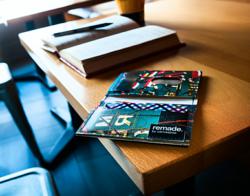 "We wanted to implement a creative solution to reduce our waste and hopefully inspire other companies to follow suit." -Nazim Ahmed, Co-founder, CanvasPop
New York, NY (PRWEB) June 20, 2013
CanvasPop, the web's most innovative provider of quality canvas prints, announced today it will begin selling wallets made from recycled canvas as part of a bold initiative to reduce waste while driving positive social change.
Remade by CanvasPop will convert discarded pieces of canvas into unique 'upcycled' wallets.
CanvasPop has grown considerably since its 2009 inception, producing thousands of high-quality photo canvas prints every week.
As a leading creator of photo canvas prints, CanvasPop prides itself on its quality -- every print has to be perfect, or the company discards the canvas and starts over. Because of this commitment to perfection, over the years the canvas waste became a problem.
"As our volumes increased, we recognized that the waste was becoming a problem," said CanvasPop Co-founder, Nazim Ahmed. "We wanted to implement a creative solution to reduce our waste and hopefully inspire other companies to follow suit. This is where the idea for Remade was born."
Remade offers two types of wallets. The first type features work by emerging artists and photographers, whose designs will be used to fill the otherwise 'dead border space' in a print run. The artist receives a royalty from the sale of each wallet. The second type is created from unique images derived from the discarded canvases of clients' photos, used only after receiving the expressed consent of the client.
The wallets sell online for $19 or $24. 100% of the profits are donated directly to charity: water, a non-profit organization bringing clean and safe drinking water to people in developing nations.
The wallets themselves are constructed by workers at EcoEquitable Inc., a charitable organization that provides employment and skill development training to immigrant and underemployed women.
"Remade is a full-circle program that gives back every step of the way," said Ahmed. "It is not only the basis of our green initiative, but also a new and innovative way to give back to charitable causes."
Remade by CanvasPop wallets are available now. More information can be found at http://canvaspop.com/remade.
About CanvasPop
CanvasPop is the web's most innovative provider of custom, high-quality canvas printing services. CanvasPop empowers photographers, digital artists, interior designers and everyday customers to reproduce their photos on the best quality canvas prints. CanvasPop allows anyone to print their Facebook photos, iPhone and Instagram pictures, at virtually any size regardless of the original resolution of the image. CanvasPop's goal is to provide both consumers and professionals with the easiest way to print any image on canvas. CanvasPop has printing and distribution facilities in Las Vegas, Nevada and Ottawa, Canada. For more information, please visit http://www.canvaspop.com.