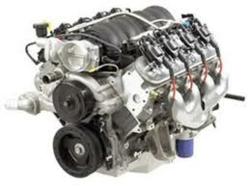 These new editions are reconditioned and offered without extra fees or import charges.
Seattle, Washington (PRWEB) January 30, 2013
Engines are designed by automakers to take years of wear, tear and abuse. Used motors that reach a certain mileage point do not always benefit from repairs. The CarEnginesforSale.com company is now offering reman engines for sale directly from its website. The addition of these motors is one solution offered to buyers searching for better quality motors for vehicle replacements. These include Ford, Chevrolet, Dodge, GMC, Plymouth, Honda and other editions. More information can be obtained about the inventory at http://www.carenginesforsale.com/ford-engines.
Engine reconditioning is a relatively new process in the automotive industry. The concept was first introduced in its most basic form in the early 1970s. Automakers licensed parts that were produced in many parts of the world to provide aftermarket components for vehicles.
The manufacturing upgrades that have taken place for motor engineering has helped the rebuilt motors industry to grow. Instead of new or used variants, the third type known as reman is now available from select retailers in the U.S. including the Car Engines for Sale company.
The testing of factory rebuilt engines is one of the ways that a builder can use to inspect the unit during operation. Untested units can fail without warning due to worn parts, electrical issues or fuel system breakdowns. The integration of a dynamometer and its subsequent calibration testing is one of the ways that the CarEnginesforSale.com company is using to perform expert level tests. Trained mechanics apply this measurement device to all reconditioned units that are in stock ready for sale to customers. This extra level of testing is the same strategy used by automakers during the engineering process.
The new reman engines include separate import editions that are now in stock. These blocks are imported from various distributors now supplying the automotive industry. These new editions are reconditioned and offered without extra fees or import charges. The first installment of the import series is the Toyota brand. A news announcement was made earlier this month announcing the Toyota additions to the company stock. This news can be located and reviewed online at http://www.chron.com/business/press-releases/article/Toyota-Car-Engines-Now-Added-for-Sale-Online-at-4170613.php.
About Car Engines for Sale Co.
The Car Engines for Sale Co. is now part a select group of sellers online able to rebuild and sell its own inventory to the public. More than 20 years of building and selling motors has helped this company to establish a presence in the United States as an expert company. From the trade industry to the general public, this company is one of the largest distributors of secondary market motors. The Car Engines for Sale Co. offers its complete lineup with warranties and provides shipments to all customers on the same day orders are placed. These measures have helped to provide solutions for buyers in all 50 U.S. states.