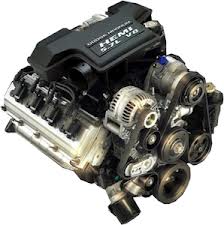 These custom built motors are sold with OEM quality and are offered online at reduced MSRP prices.
Cleveland, Ohio (PRWEB) February 23, 2013
New engine engineering and development receives attention annually as new advancements are made in technologies. A less mentioned area of the automotive industry includes refurbished motors that are sold to the public. These reman motors are now sold exclusively to mechanics online at the rebuiltenginessale.com website.
These custom built motors are sold with OEM quality and are offered online at reduced MSRP prices. The integration of these units is expected to help buyers locate engines difficult to find through traditional resources.
Engine reconditioning has been one portion of the automotive industry since the 1970s. Parts manufacturing has helped this industry create like new engines after removing worn out parts from used units.
The types of engines that are now available in rebuilt condition offer the variety that buyers search for and raise the quality of engine use. The reman engines that are now sold online conform to OEM data to ensure that all builds are equal to new engine performance.
Engines in any condition can breakdown at any time without any warning to the vehicle owner or installer. Some companies provide a 30-day warranty coverage plan that provides protection. One of the ways that the RebuiltEnginesSale.com company is using to extend customer assurance is by supplying a 36-month warranty time frame. This new coverage offers unlimited mileage coverage after installation of any in stock motor is complete. This incentive is provided to all buyers with no additional charges.
The creation of the company website is now helping to provide online resources that can be used by mechanics, body shops and other automotive professionals searching for replacement motors. This company also sells its units directly to owners of preowned vehicles. The news announcement for the opening of the company website can be read online at http://www.prweb.com/releases/ford-replacement-engine/rebuilt-ford-engines/prweb10430786.htm.
New inventory is added on a routine basis and undergoes testing and evaluations before shipment is made to customers. Future incentives are currently planned for announcement this year for the benefit of customers.
About Rebuilt Engines Sale Co.
The Rebuilt Engines Sale Co. sells and distributes refurbished motors from Ford, Chevy, Dodge, Toyota and other automakers online. This company works on a low price levels to ensure all buyers receive an opportunity to save money when replacing motors. The attachment of the no charge warranty protection for a term of 36 months is one way this company is offering a difference compared to purchasing from dealerships. The Rebuilt Engines Sale Co. processes and ships customer orders on the same day to take away any delays that could happen during processing or shipment to customers.