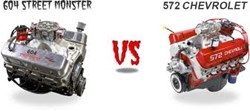 The high torque and larger than standard displacement now offered allows the 604 engine to produce speeds much higher than a traditional Chevy 572 engine.
Detroit, MI (PRWEB) September 14, 2012
Remanufactured 572 engine alternatives can be hard to find for some engine buyers. The 572 is one of the classic Chevrolet engines that was introduced in the late 1990s when GM started to make high performance engines available to the public. The 572 engine is a 9.4L displacement and might not be right for every engine installation. The subsidiary of the Remanufactured Engines for sale website, http://www.572engine.com, is now offering a 604 cubic inch engine that is designed to be a remanufactured 572 engine alternative. This larger engine provides over 725 horsepower to hot rod builders, project car buffs and classic car restorers that want to maximize the power and performance with an easy to install engine.
Chevrolet engines have been in demand since the muscle car era of the mid 1960s when power meant everything and fuel economy was of little concern. The large V6 and V8 engines that were produced by Chevrolet included the 350 small-block engine. The small-block is arguably the most famous engine that General Motors produced and this engine was manufactured for nearly five decades.
Engines like the new Vortec series are now in use by Chevrolet and the performance car market often requires engines for project builders that are different than consumer grade engines. GM started to produce performance engines for the resale market in the 1990s of many famous engine blocks that car owners could purchase for installation.
The 604 upgrade that is now available as the 572 engine alternative is one that has gone through a lot of development. The high torque and larger than standard displacement now offered allows the 604 engine to produce speeds much higher than a traditional Chevy 572 engine.
"This engine is a massively powerful engine," said a representative of the 572engine.com website. "We're in the business of selling all types of remanufactured engines and the 604 is one of our most in demand engines yet," the representative added.
The rebuilt engines industry is one that has witnessed steady increases as more engine builders, mechanics and junkyards are switching from used engines to those that are remanufactured. The largest difference between rebuilt and used is the parts that are taken off and put back on the engine block. A used engine will remain used and is often necessary to fix due to intermittent breakdowns.
A remanufactured engine, like the 572 alternative 604 engine, is designed with all new parts that are applied on a used engine block. This engine recertification can now be completed at a much lower cost and engines can last two to three times as long.
Car builders, car owners and body shops that perform engine swaps and replacements can learn more about the remanufactured 572 alternative 604 engine by visiting the following link http://572engine.com/engine-information.
About Remanufactured Engines for Sale
Acquisition of used engines for less than retail prices is the basic business model of Remanufactured Engines for Sale. This online engine retailer finds, evaluates and rebuilds used engines to make them into perfectly rebuilt OEM engines from top automakers. Engines for Ford, Chevrolet, Dodge, Toyota and Jeep are in stock at the Remanufactured Engines for Sale website annually. By offering rebuilt engines to business owners and the public, the RemanufacturedEnginesforSale.com website is now able to cover both sides of the rebuilt engines industry. The addition of the 572engine website is helping this retailer to introduce the 604 engine.