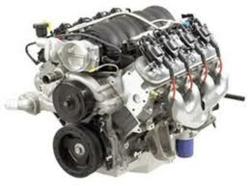 The RemanufacturedEngines.co company now provides dyno testing services as part of its facility upgrades.
San Antonio, Texas (PRWEB) January 15, 2013
Chevrolet series vehicles are one part of the General Motors company. Owners of used vehicles who require engine replacements can find that locating one for a reduced price can be problematic. The http://www.remanufacturedengines.co company is now selling remanufactured Chevy engines discounted from MSRP to vehicles owners online to help eliminate the research process to find replacement motors. This company is now selling these reconditioned I4, V6 and V8 editions that fit into the classic and late model edition vehicles produced by GM. .
Chevrolet vehicles have helped to increase sales of GM vehicles worldwide for the over a quarter century. Notable creations from this lineup include Cavalier, Nova, Camaro and Silverado. These names have helped to build the legacy of General Motors as a quality automaker. The new reconditioned units that are now in stock includes the Vortec, Gen III and Gen IV editions that remain in demand for many vehicles produced within the past 25 years. The discounted pricing that is now attached to this inventory is helping to lower the cost of replacing a Chevrolet motor.
A rebuilt or remanufactured engine is one that is built to function like new again. Instead of a preowned motor with high mileage and no service schedule, the rebuilt editions provide new parts and a comprehensive cleaning internally and externally. The RemanufacturedEngines.co company now provides dyno testing services as part of its facility upgrades. This new testing provides calibration reports and measurements to ensure compression, oil ratios and other important elements are intact before these units are sold to buyers. This testing is designed to increase the value already provided with the expert rebuilds.
Accurate pricing remains hard to locate through some sellers online. From outdated price lists to non-existent price listings, buyers can be confused when a motor is located online for sale. One way that this company is now eliminating these types of issues is with a new online price generator. This new generation system provides answers to questions, warranty information and engine pricing through a custom built system. This system can be used 365 days a year and is one of few online that provides an alternative to telephone quotation systems or standard retail list pricing.
About Remanufactured Engines Co.
The Remanufactured Engines Co. launched its website online in 2010 to provide way for buyers to locate hard to find engines on the Internet. This company has developed a series of internal quality controls that are making it possible for better quality motors to be rebuilt. Through upgrades and technological advancements, this company is now one of the leaders in the secondary market engine industry. The Remanufactured Engines Co. is one of few retailers that rebuild and resell motors to the trade industry and to the public. This dual retail formula has helped increase annual sales volume online and offline.