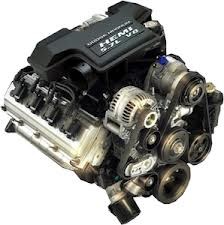 The Ram 5.7L V8 engines that are now dyno tested are still shipped with a standard 36-month unlimited mileage engine warranty.
St. Louis, Missouri (PRWEB) October 07, 2012
Remanufactured engines are one way that some vehicle owners are helping to restore like new quality to overall vehicle reliability. Vehicle engines are one of the most expensive components to replace and purchasing an engine that will have longevity is important. The Remanufactured Engines for Sale company is now dyno testing its remanufactured Dodge Ram 5.7L V8 engines before shipment. This new series of testing is put in place to assure all engine buyers that what is purchased will perform as intended after installation. The Ram series of trucks are one of the most popular pickups and equally popular for the RemanufacturedEnginesforsale.com website. More information about the in stock Ram inventory can be found at this link http://www.remanufacturedenginesforsale.com/dodge/dodge-ram-57l-v8-engines.
Dodge Ram or Ram as it is now referred to was created by the Chrysler Corporation. This pickup truck series is now the best selling vehicle in the medium-duty pickup truck line. Competitors Ford and Chevrolet have reached sale success with their vehicles although Ram has used savvy marketing in the past decade in an effort to remain in the public eye. Since leased and used vehicles that are traded in typically have higher engine mileage, finding a replacement engine can be challenging for mechanics and body shops. The cost of a new engine could exceed the value of a used vehicle.
The Remanufactured Engines for Sale company has lowered its engine prices below MSRP in an effort to help engine buyers reduce engine upgrade costs. The cost value of repeatedly fixing a used engine compared to replacing it with a rebuilt one is recognized by many in the automotive industry. Along with the lower than standard pricing, sales through the RemanufacturedEnginesforSale.com website now include warranties that are unlimited in mileage for three years. This is applicable to most in stock engines in the current inventory as well as the Ram truck series.
The new dyno testing that is now performaned by Remanufactured Engines for Sale is expected to improve the longevity of all engines that are shipped to customers. This computerized testing equipment is used by professional engine testing facilities to help calibrate engines after they are rebuilt. The dyno tests can often detect damage in the ignition, seals, bearings, heads or other areas that are prone to mistakes when only manual inspections by a mechanic are completed. The Ram 5.7L V8 engines that are now dyno tested are still shipped with a standard 36-month unlimited mileage engine warranty.
About Remanufactured Engines for Sale
The Remanufactured Engines for Sale company rebuilds engines from Ford, Chevrolet, Dodge, Toyota, Isuzu and Plymouth for sale to business customers and regular vehicle owners. By keeping a larger than standard inventory, The RemanufacturedEnginesforSale.com website has been able to attract thousands of engine buyers each month since its Internet launch in 2009. As the engine industry changes to modern electro-mechanical engines, the Remanufactured Engines for Sale company continues to be at the forefront of engine rebuilding in the United States. With three-year unlimited mileage warranties and affordable prices, Remanufactured Engines for Sale has expanded its engine business in the global economy.