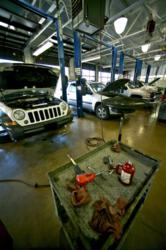 This expansion of our inventory and new dyno testing is expected to work out very well for us and our customers.
Seattle, WA (PRWEB) May 20, 2012
Remanufactured engines are reproduced engines from used Ford, Chevy, Dodge or Jeep engines and sold as a replacement engine. These types of engines are mostly sold as an upgrade to a standard used engine. Few engine sellers make investments into expensive testing equipment to prove the accuracy of a rebuild and often go by the expertise of an engine mechanic. The engine retailer, http://www.remanufacturedenginesforsale.com, has purchased a new dynamometer machine to computer and compression test every rebuilt engine from its engine shop. This expensive but useful device will make it much easier to determine oil compression ratios that help validate the success of a remanufactured engine project. All remanufactured engines from Ford, Chevy, Dodge and Jeep will now be tested using this equipment before these engines are shipped to fulfill customer orders.
Automotive dealerships traditionally stock larger inventories in the summer months to take advantage of manufacturer discounts and special dealer incentive pricing. Much of the growth that is reported annually by GM, Ford and Toyota happens between the second and third quarters. These increases in automotive sales often mean a higher increase in engine replacements and project car building. "We recently received huge Ford and Chevrolet shipments to prepare for the summer," said Miles Hartmann, Sales and Strategy Analyst for RemanufacturedEnginesforSale.com. "This expansion of our inventory and new dyno testing is expected to work out very well for us and our customers," Hartmann added. The average car that is purchased brand new, according to market research studies, has an estimated life span of 5 to 7 years.
These automobiles are either traded in at dealerships or sold at used car auctions. The condition of used engines can often vary from poor to excellent depending on the maintenance provided by a previous owner. This puts increased value on testing engines before they are purchased by salvage yards, dealerships, mechanics or individual vehicle owners. The American Remanufactured Engines Association recommends that used engines receive service well before the 50,000-mile mark. The rebuilding facility that http://www.remanufacturedenginesforsale.com has constructed is now able to bring used engines to life with both expert mechanic testing and dyno testing for every engine in its growing inventory. The quality of a professionally rebuilt engine could be able to give a driver another 50,000 miles of uninterrupted drivability.
About RemanufacturedEnginesforSale.com
A loaded warehouse and a handful of staff members has quickly turned into a multimillion-dollar annual business for RemanufacturedEnginesforSale.com. This engine retailer has grown from modest beginnings to having one of the largest remanufactured Ford, Chevrolet, Jeep and Dodge inventories in the United States. Specializing in the remanufactured engines market has brought in new clientele to help expand this now worldwide engine business. Through discounted engine pricing and strong customer service, RemanufacturedEnginesforSale.com has earned the level of trust and reputation that it has received in just 5 short years in the engine selling business.