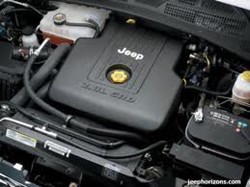 The Remanufactured Engines for Sale company now uses all OEM parts to rebuild its Jeep engines.
Charlotte, North Carolina (PRWEB) October 04, 2012
Remanufactured Jeep engine buyers will now receive a new extended warranty courtesy of the RemanufacturedEnginesforSale.com website. This expert engine rebuilding company has announced its new and improved 3-year unlimited mileage engine warranty. This warranty is now applied to the purchase of rebuilt Jeep engines that are in stock. This warranty includes the parts and the mechanic labor that is put into each remanufactured engine. This remanufactured Jeep engines for sale warranty coverage is expected to help vehicle owners as well as those businesses that purchase rebuilt engines for customer sale or installation. More information about the warranties available or in stock numbers can be found at this website link http://www.remanufacturedenginesforsale.com/jeep-engines-2/remanufactured-jeep-engines-sale.
Jeep engines might not receive national media attention like Ford and Chevrolet, but these engines have been constantly modified since WWII. The original design and use of these engines was military related. Jeep engines are some of the most unique in modern automotive design due to the on road and off road capability. These engines are designed to remain reliable for decades and are precision built inside the United States. Chrysler, the parent company of Jeep, has used Jeep technology in other vehicles like the Ram and Magnum series.
Engine buyers that purchase the variety of engines online could find it difficult to receive warranty coverage depending on the retailer that is offering the engines.
The new warranty extensions that are offered by the RemanufacturedEnginesforSale.com website have been planned for months according to company sources. The industry as a whole is constantly monitored and the business remains competitive for many online sellers. The popularity of remanufactured engines is one reason that many sellers are now offering these engines instead of ones that remain in used condition.
"What we do is we rebuild used Jeep engine blocks to make them as close to a new Jeep engine as possible," said a source from RemanufacturedEnginesforSale.com. "Our customers are individuals, body shops, mechanics and even junkyards that depend on engines that will last longer and be more reliable than a used engine," the source added.
The creation of the Jeep Cherokee and Grand Cherokee helped push Jeep into new territories in the 1980s and 1990s. The success of these vehicles still translates to the used vehicle market. Because millions of these vehicles were sold, many of these still remain in active use in the U.S. and Canada. Part of the reason for the longevity is the relatively easy access to replacement parts.
The Remanufactured Engines for Sale company now uses all OEM parts to rebuild its Jeep engines to ensure that all customers receive an original engine without rebuilder modifications. The new 3-year engine warranty covers the use of these OEM parts.
About Remanufactured Engines for Sale
A single warehouse and a dedicated staff of employees is how the Remanufactured Engines for Sale company started its now worldwide business. By selling engines that last longer than used ones, this company has quickly expanded its customer base to include individual vehicle owners and business owners that depend on reliable engines. The Remanufactured Engines for Sale inventory now includes rebuilt engines from Ford, Chevrolet, Chrysler, Dodge, Toyota and Isuzu. New pricing has been added to the current inventory to help lower the cost of replacing an engine in modern and classic cars, pickup trucks and SUVs.