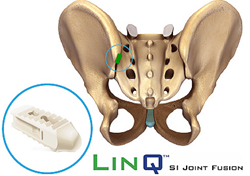 The LinQ™ surgery may be performed in a less invasive way than traditional Sacroiliac Fusions, allowing for less blood loss and potentially quicker recovery time.
TAMPA, Fla. (PRWEB) May 30, 2019
The expert pain management specialists at Florida Pain Relief Centers are dedicated to providing the latest in state-of-the-art treatment options to ensure the most effective pain relief plan for each individual patient. And now, FPRC is proud to announce another new and innovative procedure: The LinQ™ - SI Joint Fusion System by PainTEQ.
The LinQ™ Sacroiliac Joint Fusion System allows for fusion and stabilization of the SI joint in eligible patients where appropriate non-surgical treatment has failed. Stabilization of the SI joint may provide immediate relief of pain symptoms.
The LinQ™ surgery may be performed in a less invasive way than traditional Sacroiliac Fusions, allowing for less blood loss and potentially quicker recovery time. The system is intended for sacroiliac joint fusion for conditions including Degenerative Sacroiliac and Sacroiliac Joint Disruptions.
SYMPTOMS OF SI JOINT PAIN:

Pain located on one side of the lower back
Pain radiating into the buttocks, lower back and groin
Referred pain into the lower limbs which may be mistaken for sciatica
Difficulty turning over in bed, struggling to put on shoes and socks, leg pain while getting in and out of the car
Stiffness in the lower back when getting up after sitting for long periods and when getting up from bed
Aching on one side of the lower back when driving long distances
SACRAL DISRUPTION AND DEGENERATIVE SACROILIITIS
The sacroiliac (SI) joint is located in the lower portion of the body, between the sacrum and the pelvis. The sacroiliac joint is designed to act as a shock absorber for the upper extremities. This joint, like any other joint, may become injured or degenerative over time. If these changes occur, they may cause SI Joint pain.
SACROILIAC JOINT PAIN
The sacroiliac (SI) joint pain may be caused by a variety of different factors. Two possible causes of SI Joint pain are Degenerative Sacroiliitis and Sacral Disruption. These may be caused through atraumatic (degenerative changes over time) or traumatic (lift, fall, automobile accident) occurrences.
DIAGNOSIS AND TREATMENT OPTIONS
The sacroiliac (SI) joint pain can potentially be difficult to diagnose as it may mimic disc or lower back pain. However, there are a variety of tests that can be performed to confirm that the SI Joint is indeed the pain generator.
A heavily preferred diagnostic tool used to identify whether the SI Joint is the cause of your low back symptoms is an SI Joint injection with a local anesthetic. If your pain decreases after this diagnostic injection, your surgeon may determine that the SI Joint is the pain generator.
SYMPTOMS OF SI JOINT PAIN:
Degenerative Sacroiliitis
Sacral Disruption
Ankylosing Spondylitis
Post-traumatic SI Joint Disruption
Leg length discrepancy
Structural Pelvic Asymmetry
Tumor (Pituitary of Metastatic)
Infection
Inflammation
Degenerative Osteoarthritis
Ligamentous Laxity (Pregnancy)
Trauma
Adjacent Segment Disease
POTENTIAL PATIENT CANDIDATES
Failed previous treatments
Extreme chronic pain
Trauma
Postpartum
Adjacent Segment Disease
Motivated and capable of reasonable post-surgical expectations
Failed required diagnostic exams (provocative testing and Fluoroscopic SI Injection)
HERE'S WHY REFERRING PHYSICIANS RECOMMEND THE LINQ™ POSTERIOR SI JOINT FUSION PROCEDURE FOR THEIR PATIENTS:
Minimally invasive
No metal implanted
Short Procedure Time
Fast Recovery Time
Proven Results
Florida Pain Relief Centers is happy to announce that we now offer this innovative new procedure at several clinic locations, so that we may provide even more treatment options to help minimize or eliminate chronic joint or back pain for Florida patients.
CONTACT FLORIDA PAIN RELIEF CENTERS FOR MORE INFORMATION ABOUT RELIEVING YOUR SI JOINT PAIN
At Florida Pain Relief Centers, our expert pain management specialists are dedicated to providing minimally invasive, proven procedures and treatments based on the individual needs of each patient.
Whether the best treatment is the The LinQ - SI Joint Fusion System or another proven alternative, we'll work together with you to find the most effective treatment to minimize your pain and restore your quality of life.
Call Florida Pain Relief Centers today at (800) 215-0029 or visit http://www.yourpainreliefcenters.com to set up a consultation online at one of our clinics so we can discuss options for reducing or eliminating your pain.