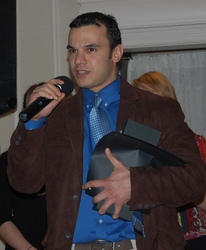 Helou cites his accomplishments a team effort
Philadelphia, PA (Vocus) February 3, 2010
Ralph Helou accepted the 2009 David L. Strauss Award on January 16, 2010 at ReMed's annual staff celebration. Helou was hired at ReMed in August of 2004 as an intern and since then has pushed himself to become a knowledgeable and skilled clinician. Helou, a resident of West Chester, PA, has worked with some of ReMed's most challenging patients. As he accepted his award, Helou commended the clinical team that he works with and those who pushed him to continually move forward because "this is a team effort" and he couldn't have done it without his team.
David L. Strauss, Ph.D. was a clinical neuropsychologist and founding partner at ReMed, a post acute provider of rehabilitation and long term care for individuals with acquired brain injury. David Strauss, ironically lost a battle with brain cancer in July of 2004. The David L. Strauss Award was created in 2003 by ReMed to honor an individual whose work has significantly improved the quality of life for people with brain injuries. The recipient of this award will be a person who exhibits leadership, dedication and a commitment to meet the needs of persons with acquired brain injury. The award is passed on to other ReMed staff who demonstrate by their thoughts, actions and deeds that they are doing it the right way. The David L. Strauss Award will be given annually to a ReMed staff member who exemplifies David's spirit.
ReMed provides post acute rehabilitation and long term care for people with acquired brain injury and has specialty programs for individuals with severe neurobehavioral issues. For more information please visit http://www.remed.com.
# # #