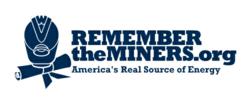 It is an honor to be recognized as a charitable organization at such a marquee event.
(PRWEB) April 09, 2012
Remember The Miners is pleased to announce partnering with The Greenbrier Classic's Badges for Charity for a second consecutive year.
Badges for Charity is The Greenbrier's philanthropic program that benefits non-profit organizations. The program passes a percentage of all proceeds from badge sales of the PGA TOUR FedExCup Series to local, state, and national charities. This is the second time Remember The Miners has partnered with Badges for Charity. Funds passed through Badges for Charity are generated by the purchase of badges for The Greenbrier Classic, to be held July 2-8. All badges include weekly access to the tournament grounds, complimentary parking and concert tickets. The concert performance schedule is: July 4th—Toby Keith with special guest Lionel Ritchie; July 6th—Rod Stewart; and July 7th—Bon Jovi.
"We're excited to continue our relationship with The Greenbrier Classic and embark upon this philanthropic development," said Jason Parsons, President of Remember The Miners. "It is an honor to be recognized as a charitable organization at such a marquee event."
Proceeds from Badges for Charity will benefit the Remember The Miners Scholars Program. The Scholars Program was created in partnership with the West Virginia Coal Foundation to support families of the West Virginia mining community. Awardees of the scholarship are miners, dependents of miners, or students pursuing higher education in the mining industry. In 2011, Remember The Miners awarded $25,000 in scholarships through the Scholars Program.
Tickets can be purchased here.
About Remember The Miners
Remember the Miners is a public awareness campaign dedicated to honoring the legacy of all miners and the mining industry, bringing the human element to the forefront of the energy debate, and remembering the miners who have fallen. Remember The Miners also raises awareness about the sacrifices that miners and their families make for our country. http://www.remembertheminers.org.