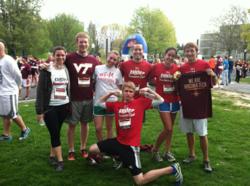 Cincinnati, Ohio (PRWEB) April 16, 2013
What: TQL is holding a Remembrance Run this evening in honor of all of those lost in the shootings at Virginia Tech six years ago, and to support all people who have been affected by senseless violence in this country, especially the victims of yesterday's tragedy at the Boston Marathon.
Who: TQL employees will be participating, as well as members of the community if they would like to run or walk.
Why: TQL employee and Virginia native, Ryan Yeatts, moved to Cincinnati in January 2013 to take a job with TQL. A few weeks ago, he placed a small note in the TQL Running Club weekly email asking for club members to join him in a Remembrance Run on the track that encircles the TQL office. Ryan had run the Remembrance Run at Virginia Tech every year since it started in 2008 to show his support for his community. He did not want to stop the tradition just because he had moved to Cincinnati.
Little did Ryan know that his efforts to carry on his tradition hundreds of miles from home would take on even more significance as the country also mourns the loss of those killed and injured in yesterday's tragedy at the Boston Marathon.
When: Tuesday, April 16
5:30 – 5:45 – Meet at the TQL Basketball Court. Non-TQL employees must sign a release and waiver in order to participate. It is a 5K race (3.2 miles in honor of the 32 victims at Virginia Tech), although participants are welcome to complete any distance that is comfortable for them.
5:45 – 5:50 – Moment of silence balloon release. 32 balloons (orange and maroon) will be released to honor the 32 victims of the 2007 Virginia Tech shooting. Three blue balloons will be released to honor those who perished in yesterday's tragedy.
5:55 – Race begins.
Where: On the track surrounding TQL's Clermont County headquarters, located at 4289 Ivy Pointe Boulevard, Cincinnati, Ohio 45245. There is ample parking available in the main lot. Please do not park in the turnaround.
Media Contact: Kristine Glenn, Cell: (513) 317-3890 or (513) 831-2600 x56757, kglenn(at)tql(dot)com.