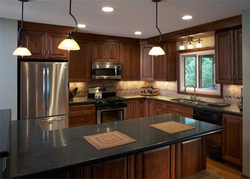 Custom Remodelers Inc. did a fantastic job on my kitchen!
Minneapolis, MN (PRWEB) April 26, 2010
Custom Remodelers, Inc. is currently accepting entries from local homeowners for their annual remodeling prize drawing. At the end of the year, Custom Remodelers will draw one lucky winner, who will receive a home remodeling prize of their choice with a value of up to $20,000!
The home remodeling prize is the winner's choice of either new, energy-efficient, vinyl windows for the entire home or a complete exterior facelift with maintenance-free siding. Both prizes include free installation. The siding prize comes with a choice of many colors of Custom Guard siding, as well as corner posts, J-channel and finish trim. This prize also includes tear-off of existing siding.
Custom Remodelers, Inc. collects entries throughout the year through their website, http://www.customremodelersinc.com, as well as at building and other trade shows. The winner of the drawing will be randomly selected on December 31, 2010 and will be notified within 30 days of the drawing.
To qualify, entrants must own a single-dwelling home. To enter and review contest rules, go to http://www.customremodelersinc.com and click on "Contest" on the left side of the screen, then fill out the online form. A staff person from Custom Remodelers, Inc. will follow up with all entrants over the phone to confirm registration.
Custom Remodelers, Inc. is one of the most experienced home improvement contractors in Minnesota, and specializes in exterior home improvements, such as siding, windows, doors, gutters, roofing, and decks and interior remodels including kitchens, bathrooms, and basements. Their professionalism and superior customer service has earned them a reputation for reliability and honesty, and the respect of their peers and partners in the building industry. Learn more about Custom Remodelers, Inc. at http://www.customremodelersinc.com.
# # #