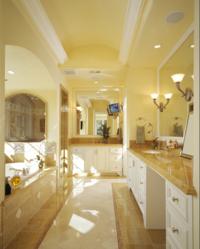 We pay attention to detail, budget and schedule. I put a lot of emphasis on listening to the homeowner's ideas and incorporating them. Great communication is crucial
Orinda, CA (Vocus/PRWEB) July 02, 2011
Mara Construction an East Bay general contractor announces they are now offering a bathroom remodeling project that can save clients a great deal of money by cutting down on their utility bills. One of the major ways of accomplishing this goal is for Mara Construction to install energy-efficient toilets that can save water, time, energy and cost and other cost effective improvements.
Aside from better toilets, new plumbing fixtures can save on water bills and sensor and timers can save on the electric bill. One of the newer features in homes is a sensor that turns on when the door opens and turns off shortly after the door closes and no movement is detected within the room.
In addition to the decreased spending on utility bills, customers will love the new look of their bathroom as the right contemporary style for their home will look fantastic.
Due to today's economic times, labor costs to remodel are much lower but offer bigger advantages in creating features that will achieve a client's goal in lowering utility costs and achieving a contemporary style at the same time.
"We pay attention to detail, budget and schedule. I put a lot of emphasis on listening to the homeowner's ideas and incorporating them. Great communication is crucial," said Anthony Maramonte, owner of Mara Construction. "So when they want something that will save them on their future utility bills, we are more than happy to oblige."
Mara Construction's bath remodeling also adds value to the home if owners decide to sell the house. The energy efficient toilets are a sought-after aspect of a home on the market and can bring up the home's value and the return on the money spent can be up to 80 percent.
For more information, Mara Construction invites both current and potential customers to visit http://www.maraconstruction.com/ and learn more on their wide range of remodeling and construction services. They may also call (510) 385-8251.
About Mara Construction
Mara Construction is located in Orinda. They provide home additions and construction for residential and commercial projects. Anthony Maramonte has been providing prompt and efficient service at a low cost because Bay Area customers deserve reasonable prices for projects that will last a lifetime. Mara Construction takes pride in building and remodeling houses and they guarantee that customers will remain happy and content living in a brand new or newly remodeled home.
###