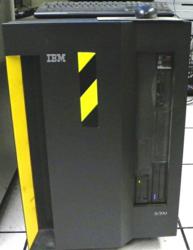 Kannapolis, NC (PRWEB) May 01, 2013
Special Agents Mutual Benefits Association (SAMBA) informed T. Farlow Associates, Inc. (TFA) on a recent Sunday that their IBM mainframe processor and integrated disk drives were down. The integrated disk drives held SAMBA's IBM operating system, applications, and customer data.
For more than 12 years, TFA has had the privilege of serving SAMBA as their choice for technical support and disaster recovery services. However, TFA was not SAMBA's on-site hardware maintenance services provider. That was the task of a highly respected international company with systems engineers on location. These engineers on the front line at SAMBA valiantly attempted to repair the failed processor over the course of the next four days, but to no avail.
TFA was kept abreast of the situation with constant contact with SAMBA during this trying period, and upon notification on Wednesday that SAMBA's system was still down, TFA decided to de-install one of its own IBM mainframe processors that was identical to that being used by SAMBA. That machine (approximately 500 lbs.) was then loaded and transported, by TFA systems engineers, departing that same day, covering the 400-mile distance to SAMBA headquarters over the next eight hours.
TFA guaranteed to SAMBA that this emergency action plan would result in their data processing capabilities being restored, and quickly.
TFA did this with no contractual liability, no agreement beyond verbal, of any reimbursement of expenses, machines, or services from SAMBA (more appropriately, from the hardware maintenance services provider responsible for the machine). It was done with TFA's disregard for their own financial outcome, because it was what the situation deserved. SAMBA welcomed this response.
TFA arrived at SAMBA's data center early the next day with the replacement processor. SAMBA's maintenance provider requested one more day of attempting to recover the failed processor. TFA obliged, with SAMBA's consent, and stood by for the next 10 hours. Unfortunately, this last attempt proved as frustrating and fruitless in recovering the failed processor as all prior efforts. It was then decided that the replacement processor would be employed. This action started Thursday night and was completed by late Friday afternoon.
To accomplish the switch over from the failed processor to the replacement machine, the integrated disk drives needed to be physically moved from one machine to the other. This was done and no SAMBA operating systems software, applications, or customer data was compromised or lost. Saturday found SAMBA catching up on lost processing time with its dedicated staff working long hours of overtime.
"TFA has served SAMBA very well over the past twelve years, but in this critical instance they were instrumental in restoring our much needed data processing capabilities, and went beyond our expectations of the excellent services they consistently provide," said Walt Wilson, Executive Director of SAMBA.
To their credit, and with no contractual liability, SAMBA's hardware maintenance services provider did reimburse TFA for the machine provided, services rendered, and expenses.
TFA has a reputation for its many successful rescue operations for companies on the verge of losing precious data and information. TFA went to extreme measures that were successful in alleviating a client's emergency situation. TFA was glad to do this for SAMBA, and would do the same thing for any client.
About the company
Since 1990 it has been T. Farlow Associates' goal to provide the highest level of technical systems support available. TFA offers database disaster recovery, remote hosting, service virtualization, hardware upgrades and more. Their nationwide, multi-industry client base relies on TFA for consistent, dependable, expert solutions for their commercial data processing needs. Whether these services are provided at TFA's hardened facility, the TFA/Fast Recovery Data Center, or within their Client's locations, their goal has been and remains delivery of the highest quality and cost competitive technical services to be found. For more information visit their website at http://www.tfarlowassoc.com.