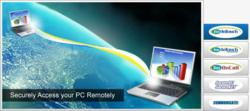 01's I'm InTouch provides both businesses and home users with a secure and easy to use PC remote access server and remote control software solution, allowing them access to their distant home or office PC, from anywhere.
Mississauga, Ontario (PRWEB) November 28, 2012
Remote Access is defined as the ability of a computer to log onto a different computer network which is at a distant location. There is a difference between remote control and remote access. Remote control means to take control of another computer whereas remote access means that the remote computer actually becomes a full-fledged host on the network for that computer. In order to have remote access, following things are required:
>> Computer
>> Modem
>> Remote Access Software
With remote access software it is not possible to have remote desktop access. These software helps the user to remotely administer another computer with the help of GUI i.e., Graphical User Interface. These softwares are of three types:
>> Attended
>> Unattended
>> Self-hosted RPC proxy servers
One of the best service providers for these remote access softwares is 01 Communique which has innovative remote access products which are marketed under the following names:
1) I'm Intouch Remote Access – It provides the facility to access his/her computer wherever a person likes either from home or office.
2) I'm Intouch Meeting – It provides the facility to share his/her desktop with up to 15 people in the world.
3) I'm Oncall Remote Support – It provides online IT support solutions from anywhere in the world.
4) Communication – It provides one of the leading communication and messaging center. It helps for sending messages, video conferencing etc.
The features of 01 Communique software include:
>> Innovative Design
>> Industry Leading Security Features
>> Web based user friendly interface
01 Communique software's can be used by almost all category of business groups such as small business owners, sales professionals, Mobile workers and PDA users, Management, Distant working teams, Internal departments, Customer services representatives, Managed service providers, resellers and software vendors, Real estate agents, Lawyers, Educators and tutors, Parents, Travelers etc.
These software's are also updated from time to time keeping in constraints that are faced by the people during their course of work. The most important feature of the software's provided by 01 Communique is their costs which is affordable by all type of people.
Other key features of 01 Communique include:
Unique Features: These include the facility to edit files, send mails, stream music, schedule online meeting, and provides remote support and much much more!
Most secure: It has an far-reaching set of security features that makes it one of the best trusted software. They can safely be used at public locations like libraries and Wifi hotspot locations.
Quick and easy to use: These software's are very to use and access. It is as simple as downloading the software and choosing a login name and password.
Best in technical support: They also provide free support and software upgrades without any additional cost.