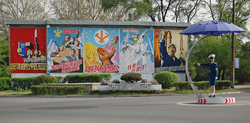 North Korea is the final travel frontier for those who have been everywhere else; it is like no other destination on earth.
New York, NY (PRWEB) September 11, 2010
Remote Lands, the New York and Bangkok-based ultra-luxe Asia private tour operator, is now offering customized trips to the ultimate travel frontier – the Democratic People's Republic of Korea (DPRK) – where currently the Mass Games, which eclipse the Beijing Olympic ceremonies in size and spectacle, are taking place through October 10, 2010.
In the past year, Remote Lands' co-founders Jay Tindall and Catherine Heald have made multiple tourism reconnaissance missions to DPRK. "Visiting North Korea, which is the ne plus ultra for the über-well traveled, is a completely mind-blowing experience," said CEO Heald. "Our trips are not in any way an endorsement of the country's government, but a unique experience that can shed light on a seemingly impenetrable land." COO Tindall added, "Traveling to North Korea is safe, it's easy and it's surreal - and it's also seamless with Remote Lands."
No other country has cut itself of quite so completely from the international community as DPRK; its isolation also makes it one of the world's most fascinating destinations. From the grand spectacle of the Mass Games to the mind-boggling tomb of the Great Leader, Kim Il Sung, to whom citizens show total devotion, it is an extreme contrast in cultures that exceptionally few outsiders ever have the chance to experience. While anti-Western propaganda is prevalent, it is directed not at ordinary citizens but rather government policies. North Koreans are generally rather warm to visitors, and the country is absolutely safe, clean and surprisingly beautiful.
Atop Remote Lands' must-see itinerary highlights in our North Korea tours is a performance of the Mass Games, the larger-than-life extravaganza featuring more than 100,000 performers in synchronized gymnastics, acrobatics, dance, and folk songs, which runs until October 10 this year. The performers' backdrop, which at first appears to be a giant LCD screen, is in fact 20,000 children flawlessly changing colored cards every 15 to 30 seconds to create different scenes. The two-hour show is performed in the 150,000-capacity May Day stadium, the world's largest.
The Kumsusan Memorial Palace, more commonly known as the mausoleum of Kim Il Sung, is a surreal experience of the people's reverence for the Great Leader and a must-do on any trip to Pyongyang. After a rigorous entry procedure that involves donning sanitary slippers and passing through a "clean room" to remove dust off you, an elaborate procession leads you through enormous palatial halls until finally you approach the transparent sarcophagus. You will be required to bow on three sides of his body – it is advisable not to visit DPRK if you are not willing to obey their strict rules.
Remote Lands also recommends a trip to the DMZ, the 2.5-mile-wide strip dividing the two Koreas and the most heavily fortified border in the world. While Western tourists flock to the South Korean side to spy a glimpse of the North, it is infinitely cooler to experience the DPRK DMZ, looking south toward Seoul. You can chat with North Korean soldiers, some of whom are adept at English and quite friendly.
In DPRK, the seemingly prosaic is in fact mind-boggling. A 30-minute stroll from the Arch of Triumph (taller than Paris's) to the 65-foot tall Mansudae Grand Monument of Kim Il Sung is a great way to witness daily life in the capital. A visit to a Pyongyang secondary school offers unique insight into North Korean culture and the education of its youth today, while a visit to a propaganda-filled "fun fair," or amusement park, allows a glimpse at leisure activities for citizens of the capital.
###