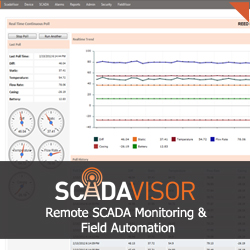 We can offer this form of pilot program because we are confident that our service offers the Oil and Gas producer more benefits and better value than our competition.
Tampa, FL (PRWEB) August 31, 2012
Fielding Systems has announced an extension to their free SCADA monitoring pilot program for Oil and Gas producers which was scheduled to expire at the end of August. The pilot program is targeted at producers who are currently utilizing another hosted SCADA monitoring solution. The pilot program includes full use of all standard ScadaVisor features on up to three existing wells and for up to 45 days without any hosting charges. The offering is designed to allow producers to compare monitoring services side by side without the need to sign any long-term contracts.
"We can offer this pilot program because we are convinced that our service offers the Oil and Gas producer more benefits and greater value than our competition," stated Shawn Cutter, President/CEO of Fielding Systems.
ScadaVisor is a cloud-based, hosted remote SCADA monitoring solution for the Oil and Gas industry that is built on Fielding Systems' own proprietary data polling engine, VisorBridge. Standard features of the ScadaVisor software include a fully featured mobile application, GIS, advanced alarms with trending, graphing and automated reports. ScadaVisor is web based so it can be accessed from anywhere in the world with an internet connection, 24/7, and the mobile version of ScadaVisor is supported on any modern smartphone such as iPhone, Android or Windows phones.
About Fielding Systems
Fielding Systems provides web and cloud based Oil & Gas software solutions for midstream and upstream companies of all sizes. Solutions include remote SCADA monitoring, field data capture, water disposal tracking and water monitoring. Fielding Systems aims to help producers gain a competitive advantage by optimizing well production, improving well safety and reducing costly downtime through technology. For more information or a demo of the software, visit http://www.fieldingsystems.com or call 877.987.4823.
All product and company names herein may be trademarks of their registered owners.
For more information, contact:
Fielding Systems, LLC
877-987-4823
info(at)fieldingsystems(dot)com