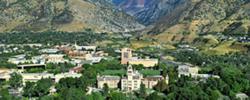 Removable Insulation Jackets are designed to insulate piping components and allow for effective maintenance.
Logan, UT (PRWEB) April 27, 2011
ThermaXX LLC entered into contract 3/8/2011 with Utah State University to provide Removable Insulation Jackets and Removable Insulation Covers in 40 buildings consisting of 1600+ Insulation Jackets. Total contract value is anticipated to be $ 379,000.00.
About USU-- Located in Logan Utah, The Utah State University is located on 400 acres and has an enrollment of 25,000 students with 1,900 full and part time faculties.
ThermaXX Role-- ThermaXX LLC will be providing Removable Insulation Covers for a number of steam components including but not limited to: Gate Valves, Globe Valves, Steam Traps, Condensate Pumps, Butterfly Valves, Heat Exchangers, Pressure Reducing Valves, etc. Work is scheduled to begin in May of 2011 and is anticipated to be completed by the end of the year.
About Jackets -- Standard insulation, installed during construction, is often removed and not replaced on piping components (pressure reducing valves, gate valves, steam traps, unions, etc…) that require routine maintenance. Removable Insulation Jackets are designed to insulate those components and allow maintenance personnel to quickly remove and replace the insulation to facilitate general maintenance. In addition to keeping the work place safe, insulation jackets also keep the heat where it belongs -- in the pipe!
For more information please contact:
Brian Bannon
VP Business Development
ThermaXX LLC
16 Hamilton Street
West Haven CT 06516
203 931 2122
bbannon(at)thermaxxjackets(dot)com
###