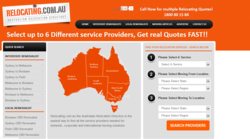 Making domestic, corporate and international moving easy!
Alexandria, Australia (PRWEB) November 06, 2012
Relocating.com.au has introduced dedicated sections on Removalists in different parts of Australia. The extensively planned section will have important information on Interstate Removalists and Local Removalists.
In fact the website will have region-wise sections for both the categories. The sections will further be divided into important sections such as Removalist services for those moving house, corporate office shifting, Commercial relocations, and Pre-Removalist move checklists.
The new sections besides giving information on local and interstate removalists also aim to facilitate client user interactions, online payment forums, moving tips and more.
The new section will also have detailed information on featured local and interstate removalists. Especially with regard to their track record, references, customer feedbacks, relocation support, transit insurance and more.
For 'Interstate Removalists' the site has complete sections on services from Sydney to Melbourne, Brisbane, and Perth. The site offers information on movement services from Melbourne to Brisbane and Sydney. Similarly the section on 'Local Removalist' also offers details on removalists who offer a comprehensive list of service providers.
Besides the above the new sections on Relocating.com.au will have a complete directory for service providers offering domestic, corporate and international moving services. The site also has an interesting section with client testimonials promoting the high quality removalist services being offered by the various service providers listed on the site's directory.
There are certain featured service providers with excellent client recommendations. There is an updated Search function on the site that facilitates easy keyword specific searches making it possible for users to get relevant information on removalists without unnecessary hassle.
About Relocating.Com.Au
Relocating.com.au is operating on the Web since 2006, helping Australians to relocate to different locations within the country and beyond. The website was re-launched in the year 2009 with an extensive directory of local removalists added to it. The user friendly interface of the website and the exhaustive database of local removalist have made relocation easier for the users.
The website also has a section on relocating tips and articles about moving check-list that makes it all the more informative and useful for the users. For more information, visit http://www.relocating.com.au or contact them at:
Head Office
201/35 Doody Street
Alexandria NSW 2015
Australia
Ph: 1300 990 122
Fax: 02 8078 6650