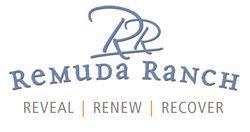 Wickenburg, AZ (PRWEB) October 04, 2013
Remuda Ranch, a comprehensive treatment center specializing in eating and co-occurring disorders for women and girls, is a sponsor of the 2013 National Eating Disorders Association Conference (NEDA) on October 10-12 in Washington, D.C. at the Hyatt Regency on Capitol Hill.
The theme of this year's conference is "Of Monumental Importance: Directing the National Spotlight on Prevention, Treatment, Research & Policy." The conference brings together professionals, researchers, educators, people in recovery and their families to connect and learn from one another.
Attendees can choose between six tracks: Treatment, Family, Co-Occurring Conditions, Diversity & Special Issues, Educator & Outreach and the NEDA Hosted Track. These sessions, led by top eating disorder experts from across the country, are compelling for first-time and previous attendees alike.
Representing Remuda Ranch at the conference will be Chris Diamond, Remuda Ranch Executive Director, Libby Neal, MA, LPC, Director of Clinical Services at Remuda Ranch, Dr. Kevin Wandler, Remuda Ranch Medical Director, and JoAnna Shapiro, LPC, Remuda Life Program Director at Remuda Ranch.
To register and for more information, visit http://www.nedaconference.org/index.php.
Remuda Ranch is an industry leader in treating eating and co-occurring disorders for women and girls through its inpatient, residential and partial-care programs. To learn more about Remuda Ranch's work, contact an intake coordinator at 866-390-5100 or visit http://www.remudaranch.com.
Since 1990, Remuda Ranch has been a leading eating and co-occurring treatment center. In that time, over 10,000 women and girls have trusted their care to Remuda Ranch. Through Remuda Ranch's treatment approach and clinical excellence at its two state-of-the art locations in Wickenburg and Chandler Arizona, individualized treatment is offered by a multidisciplinary team of psychiatrists, primary care providers, registered dietitians, therapists, psychologists and registered nurses that provided assistance and support 24 hours a day. Along with treating eating disorders, Remuda Ranch addresses co-occurring issues such as depression, anxiety, substance abuse and trauma. Remuda Ranch was acquired by The Meadows in 2012 and is accredited by The Joint Commission.